(Review originally published in Third Way, May 1993.)
Director – Steven Spielberg – 1993 – US – PG – 127m
*****
A wealthy philanthropist brings dinosaurs to life from preserved fragments of their DNA to populate his island theme park – in cinemas from 16th July 1993 and back out again on Friday, September 1st 2023
"God creates dinosaurs.
God kills dinosaurs.
God creates man.
Man kills God.
Man creates dinosaurs."
– Dr. Ian Malcolm (Jeff Goldblum), chaos theoretician.
"Dinosaurs kill man.
Women take over the world."
– Dr. Ellie Sattler (Laura Dern), palaeobotanist.
"Creation is an act of will: next time, it'll be flawless."
– John Hammond (Richard Attenborough), creator of Jurassic Park.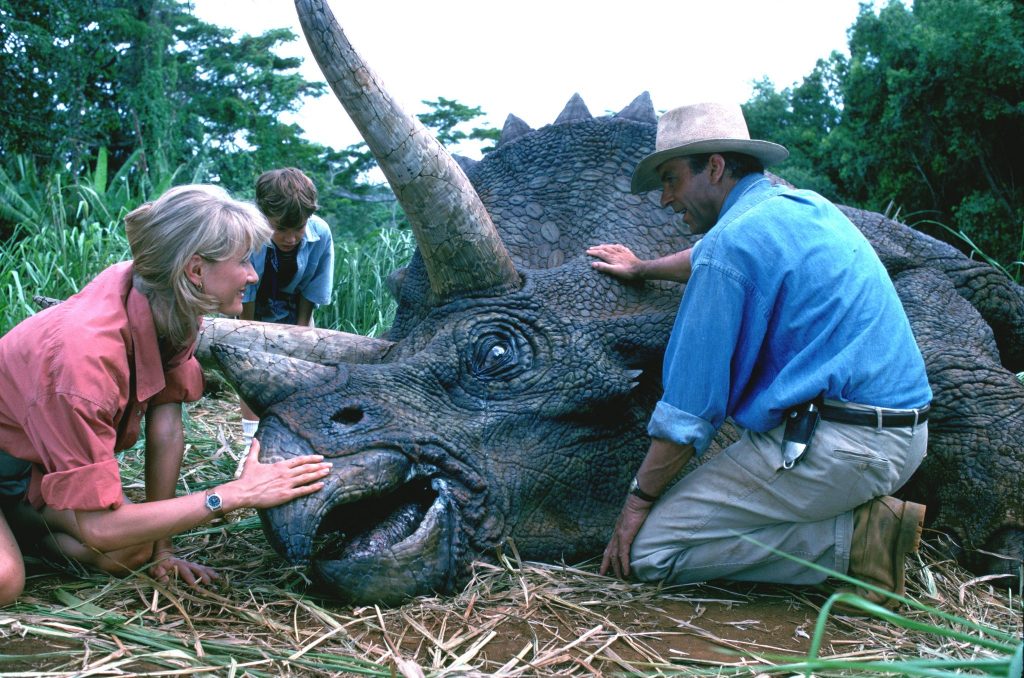 Set to become the biggest grossing movie of all time (if it hasn't already done so by the time you read this), Steven Spielberg's latest offering concerns rich industrialist John Hammond's (Richard Attenborough) theme park built around his dream to delight children with wonders come to life. The wonders are dinosaurs, cloned from dino DNA ingested by prehistoric insects subsequently drowned and preserved in amber. For more on this aspect of the story, read co-screenwriter Michael Crichton's original (and best-selling) novel; Spielberg, who races through small chunks of plot as quickly as he can, isn't interested in them half as much as he is in dinosaurs.… Read the rest