Director – Juzo Itami – 1985 – Japan – Cert. 18 – 114m
*****
Plays in the BFI Japan 2021 season, December at BFI Southbank.
This review was first published on All The Anime.
This so-called 'Noodle Western' always sounded somewhat off-the-wall. It impressed when it first appeared in 1985 and viewing it again on Criterion's new Blu-ray, Tampopo has stood the test of time well. "This'll be famous in the history of cinema" says cast member Fukumi Kuroda in director Juzo Itami's 90-minute edited diary of making the film, one of many excellent extras on the new disc.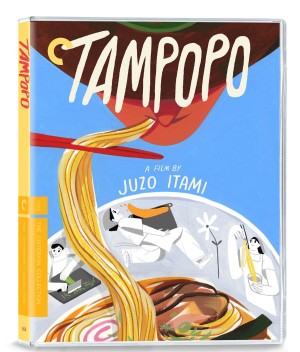 Kuroda plays the girlfriend of an unnamed, white-suited gangster (a pre-Shall We Dance Koji Yakusho) and the couple share a number of scenes involving sex and food. One involves him putting an egg yolk in his mouth which the couple then pass back and forth between them from mouth to mouth until it finally breaks and spills out onto her dress. You can find out the finer points of how they filmed this by watching the diary. Yakusho also gets a memorable death scene, bloodily gunned down by unseen assailants in a rain-swept. He then proceeds to tell his lady love about wild boar being hunted and turned into yam sausage on account of their diet, before he passes away in her arms.… Read the rest