Director – Ari Folman – 2021 – Belgium, France, Luxembourg, Netherlands, Israel – Cert. PG – 99m
*****
In Amsterdam, a year from now, her imaginary friend Kitty sets out to discover what happened to Anne Frank – out in cinemas on Friday, August 12th
Amsterdam, Holland, about a year from now. Early in the morning, the usual tourist queues are assembling outside the Anne Frank House, passing a tent housing refugees on the pavement. Inside, something strange happens as a glass case shatters and the original copy of Anne's diary is exposed to ink from a pen, affecting the ink writing on the pages and materialising Kitty (voice: Ruby Stokes), the imaginary pen-friend to whom Anne addressed her diary.
The materialised Kitty is perplexed. Where is Anne Frank? What has happened to her, to the house? The staff, too, are perplexed. They can't let the waiting crowds in with the case broken, but those people have been queueing for hours and it seems wrong not to open up for them. After a brief debate a solution is found and the diary moved to Anne's room where it is placed on the desk where it naturally sits. The concerns of the house staff seem trivial compared to those of Kitty.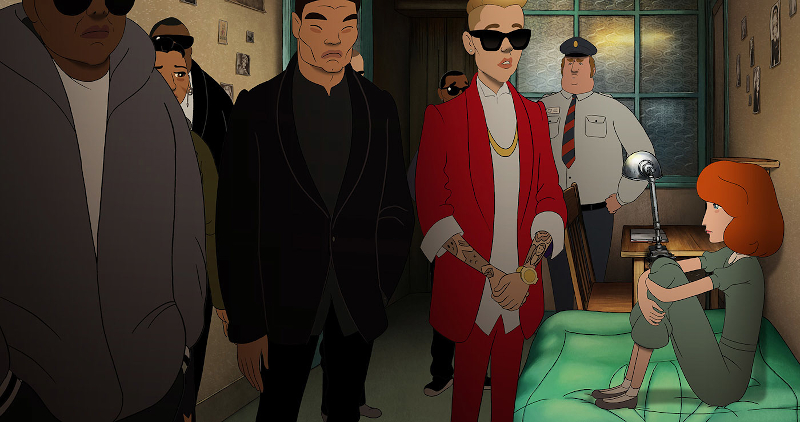 As Kitty watches the visitors working their way around the house as if round a museum, she observes a young thief whose name we'll later learn to be Peter (voice: Ralph Prosser) skilfully working the room to pick pockets and steal from handbags. Inside the house she is invisible, but when she takes the diary and leaves to find the police and report her missing friend, she discovers that outside the house she becomes visible.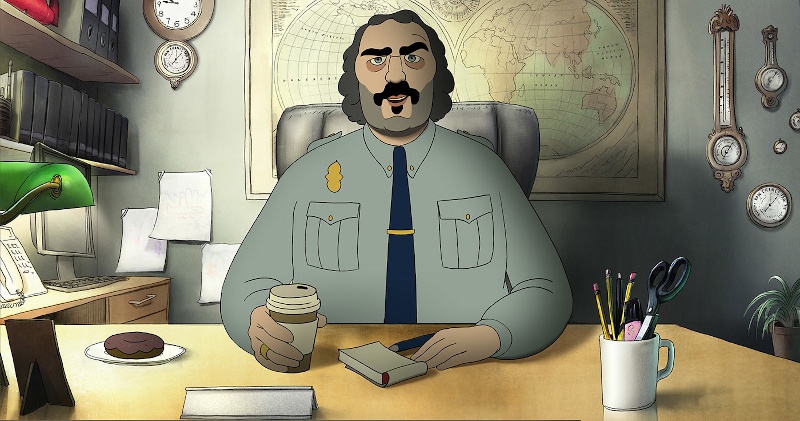 The police appear to be busy with enforcing the law and rounding up illegal immigrants from the streets for deportation. When Kitty reports Anne missing, she is met with derision by Officer Van Yaris (voice: director Ari Folman) who takes her outside and explains that "Anne Frank is everywhere… Anne Frank Bridge, Anne Frank School, Anne Frank Hospital, Anne Frank Theatre." His female colleague Officer Elsa Platt (voice: Nell Barlow) is a little less cynical, reminding him how many girls in the city are named after Anne Frank.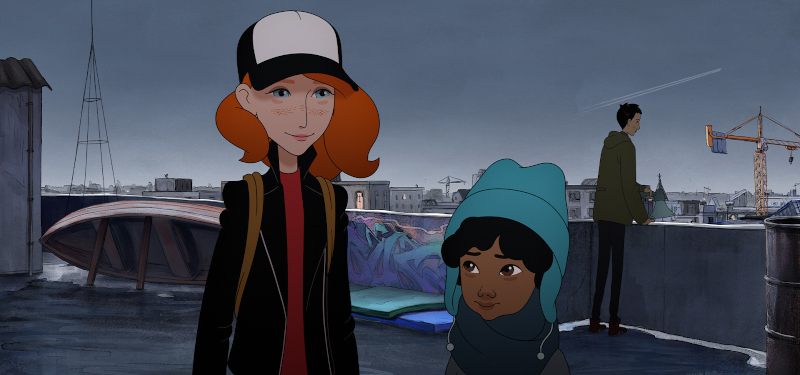 Later, Kitty falls in with Peter and his friends, a group of illegal immigrants holed up in a squat. It's only a matter of time before the police round them up. She also learns that if she becomes separated from the diary by more than about twenty five feet, she starts to dissolve into thin air. Meanwhile, a citywide hunt is underway for the girl who stole Anne Frank's diary…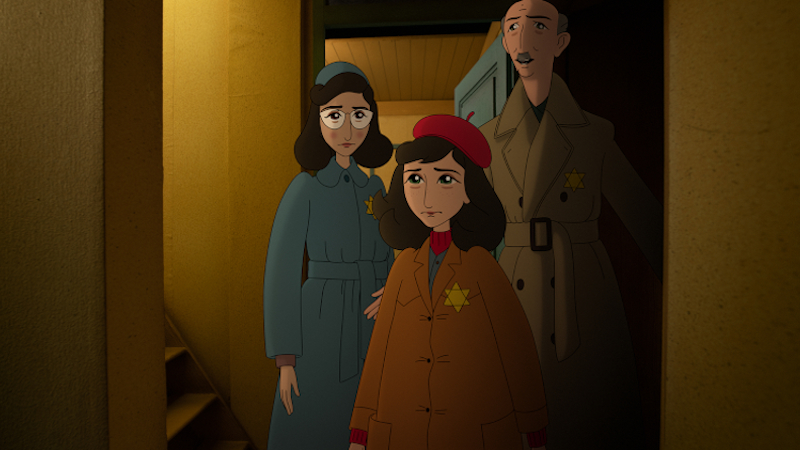 In parallel with all this, Kitty works her way through Anne's diary as if it were happening in the present tense, interacting with Anne (voice: Emily Carey) and meeting her mother Edith (voice: Samantha Spiro), father Otto (voice: Michael Moloney), older sister Margot (voice: Skye Bennett) and others sheltering with them in the part of the house hidden from the occupying German forces: Mr. and Mrs. Van Daan (voices: Stuart Miligan, Tracy-Ann Oberman), their son Peter (voice: Sebastian Croft) and the later-arriving dentist Albert Dussel (voice: Andrew Woodall).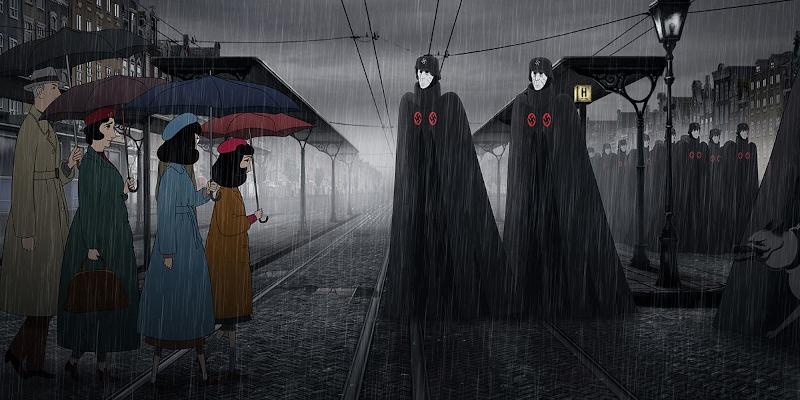 In its opening minutes, the flashback goes from the life of a carefree young teenager adored by all the boys in her school to the young girl whose family must stay hidden inside a house for for fear of what the Nazis will do to them because of their Jewish ethnicity. German soldiers are fearsome, towering, black and red authority figures reminiscent of the more surreal representations of fascism in the animated sections of Pink Floyd: The Wall (Alan Parker, animation director Gerald Scarfe, 1982) who sit comfortably with the journey to the Greek underworld, the imagery of which is part of Anne's coping mechanism for her journey to the Nazi camps of the East from which people never return.
Prior to that, most of this strand of the film stays inside the house, playing out like an animated version of The Diary Of Anne Frank (George Stevens, 1959). And yet, because of the present day material running in parallel, it feels very different. There's no sense, real, imagined or deluded, that "it can't happen here" because, in the European treatment of migrants from war zones and other forms of persecution, it's clearly happening all over again to different ethnic groups.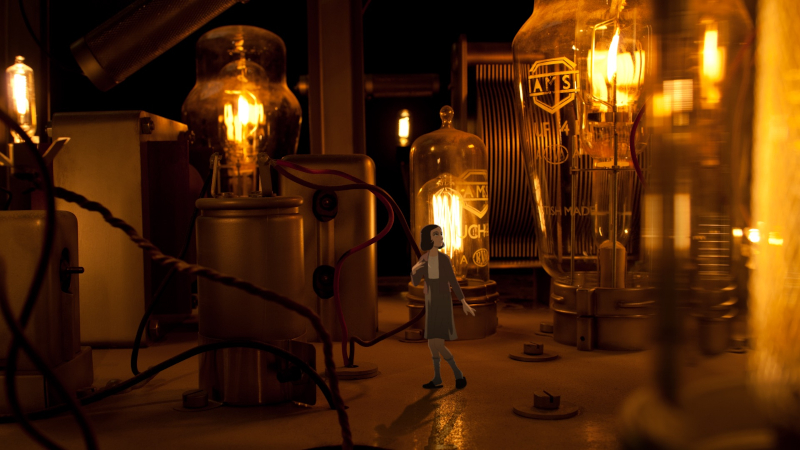 The film was originally conceived as drawn 2D animation within 3D model sets, and a few of those sets, including a staircase and the inside of a valve radio broadcasting from the free world of the Allies, survive into the final film, lovingly shot by Aardman alumnus Tristan Oliver. Mostly, though, it's drawn animation perfectly suited to the concept of Kitty arising from the ink of Anne's pen and disintegrating as she ventures too far away from the penned ink on the page. It's a very clever idea, at once a retelling of an historical story and a present day narrative intertwined with political reality yet shot through with effective, fantastical elements.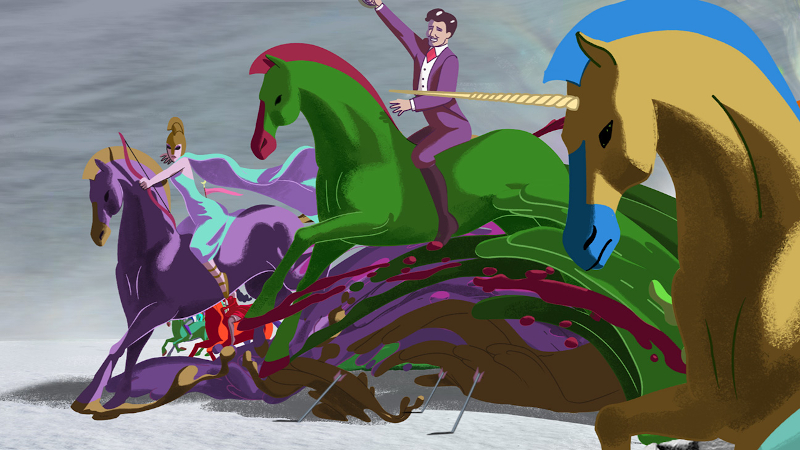 For instance Anne's obsession with the movies, movie stars and Greek mythology leads to her imagining Kitty as possessing the red hair of Veronica Lake and a charge against the Nazis as taking place across a vast plain with an archetypal ancient, horse-mounted warrior led by Clarke Gable charging at a vast group of the tall, fearsome Germans.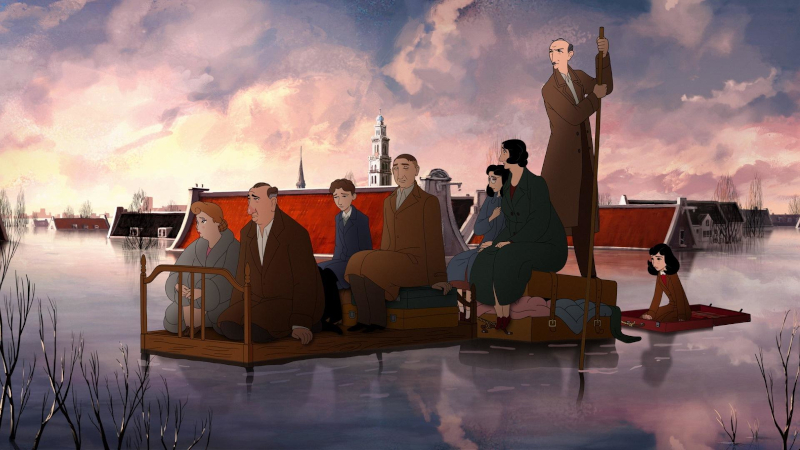 A few brief scenes of street life for Jews under the Nazis before Anne's family enters the hidden house are terrifying, but there's nothing here you wouldn't want your children to see. The while thing is profoundly involving and engaging, whether for adult or child audiences. Folman's earlier forays into animation The Congress (2013) and Waltz With Bashir (2008) proved him highly adept at telling serious, grown-up stories using the animation medium which many might assume unsuited to it. This latest film, while arguably more child-friendly, once again achieves that same end, is completely engrossing from start to finish, and deserves to be widely seen.
Where Is Anne Frank is out in cinemas in the UK on Friday, August 12th.
Trailer: