Director – Adrian Lyne – 2022 – US – Cert. US-R – 115m
****
A man is jealous of the lovers of his beautiful but promiscuous wife who start mysteriously dying one by one – out on Prime Video in the UK on Friday, March 18th
Vic (Ben Affleck) is devoted to his wife Melinda (Ana de Armas from No Time To Die, 2021, Cary Joji Fukunaga) for whom he would do anything, including give her her freedom. Since she doesn't like being tied down to just one man, this means the freedom to sleep with any man she wants. She drinks a lot too and often stays out all night, refusing to tell Vic where she's been in the morning. The trouble is, some time ago she slept with a man named MacRae and he vanished. Disappeared. No-one knows what happened to him.
Then one night, at a party he's hosting, Vic scares Melinda's current lover Joel (Brendan C. Miller) by confessing to the crime, by way of a joke. Or is it? Joel is inclined to think Vic the murderer. After a job offer causes Joel to leave the area, Melinda starts meeting a piano teacher Charles (Jacob Elordi). Again, there's a fatal accident. Melinda subsequently runs into old boyfriend Tony (Finn Wittrock) and the pair commence an affair. Meanwhile, as a couple Vic and Melinda socialise with neighbours Kelly (Kristen Connolly) and Don (Tracy Letts). The story about Vic telling Joel he killed MacRae has got around, however while most people accept Vic's story that it was a joke, Don isn't so sure. The more he sees of and talks to Vic, the more convinced Don becomes that Vic is indeed the killer.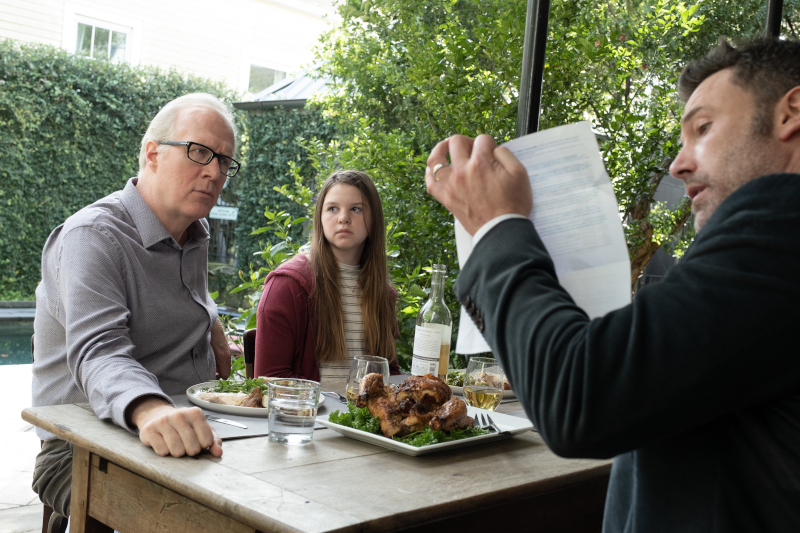 There was a time when British director Adrian Lyne was the toast of Hollywood, notoriously bringing explicit sexual imagery into the Hollywood mainstream (9 ½ Weeks, 1986) before winning an Oscar for a thriller about adultery and its consequences on family life (Fatal Attraction, 1987). Further films featuring graphic portrayals of extra-marital sex followed along with an adaptation of Nabakov's Lolita (1997), about the taboo subject of a middle-aged man falling for a young girl.
Deep Water is based on a Patricia Highsmith novel and mostly follows that book's plot (although there are a few changes towards the end). Lyne seems to be fascinated by the characters, in particular their dynamics as a couple. Ana de Armas, previously the one scene kickboxing wonder in an evening dress in No Time To Die, again demonstrates the ability to wear clothes and look like a million dollars. Because her character Melinda is often drunk, she does things like undo the top of her dress and expose her boobs before the evening's babysitter has left the house. She hosts a strange collision of the classy and the slut. Ben Affleck, meanwhile, plays Vic as the man who plays nice to his wife, who complains that he's passionless, before venting his fury when she's not around. He also has a conservatory in which he keeps snails, creatures for whom he seems to possess a genuine affection. Affleck's usual 'nice guy' persona seems ill at ease with all this.
The couple have a small daughter Trixie (Grace Jenkins, who will win you over when she gratuitously sings a pop song in the back seat of the family car) which gives the film space to explore scenes of family life in amongst everything else that's going on. Vic, in particular, comes across as a devoted parent.
Perhaps because the production was made for home viewing on Amazon, the graphic sex is kept to more of a minimum than in previous Lyne outings, with much of the carnal activity portrayed by inference – Melissa seen through windows kissing lovers, or walking out of the door to a room in a partial state of undress. Arguably the most affecting scene in this regard comes early on, when Vic is helping Melinda decide what to wear for a party and the camera looks down on her flawless, stockinged legs while Vic puts a pair of expensive black shoes on her feet. It's like a momentary excursion into foot fetishism which seems to have little to do with the rest of the film.
It works well as a thriller of the "is he or isn't he the killer" variety, with plenty of plot twists to keep you guessing, and directed in such a way that nothing is obvious. Far more compelling than that generic element, however, is the social pathology that constitutes the interaction between husband and wife, which both sucks the viewer into the vortex of their relationship and serves as the mechanism that drives the narrative inexorably forward. He end result is a serviceable (sic) erotic thriller and a rather more fascinating character study of a dysfunctional couple.
Deep Water is out on Prime Video in the UK on Friday, March 18th.
Trailer: