Director – Leos Carax – 2021 – France, US – Cert. 15 – 141m
****1/2
This musical conceived and composed by Sparks plays out as a very dark opera ending in tragedy – out in cinemas on Friday, September 3rd
Although billed as a musical, this may actually be closer to opera given that even though it starts as a story about two people deeply in love, it veers into very dark territory.
And yet framing all that, and underscoring it throughout, is the sheer pleasure of writing / composing songs… and, for that matter, performing them. The opening song is So May We Start while the closer, as the credits roll, is It's The End. (For added enjoyment, watch 90% of the audience leave before the last song starts. Or in my case, 10% of my fellow critics.)
The former starts with the band, the brothers Mael (singer Russell and keyboard player / composer Ron, profiled in recent documentary The Sparks Brothers, Edgar Wright, 2021) and a backing band in a recording studio in an invitation for the proceedings to get going, swiftly joined by the film's two leads, while the latter ends with seemingly the entire movie cast and crew walking through the countryside hoping we've enjoyed the show and asking us to tell our friends if we did so. It's not exactly the proscenium arch, but it works as a very clever cinematic equivalent to draw us into the artifice.
Whatever else this is, it's not attempting realism. Musicals don't do that anyway: when characters sing rather than speak, the effect distances us from any pretence at realism in a way that drama doesn't. That's as true of (the musical bits of) a movie musical like The Sound Of Music (Robert Wise, 1975) as it is of a rock music concept album like The Lamb Lies Down On Broadway (Genesis, 1974) or an opera like La Bohème (Giacomo Puccini, 1895).
I mention such seemingly disparate musical forms because Annette, although clearly a movie, could equally have been a traditional opera or a rock music concept album. As it happens, Sparks originally conceived it as a property that they could tour with a band (much like Genesis did with The Lamb) but then, sending the songs to Leos Carax who had used one of their compositions in his previous film Holy Motors (2012), made the director want to turn it into a movie. And now, here we are.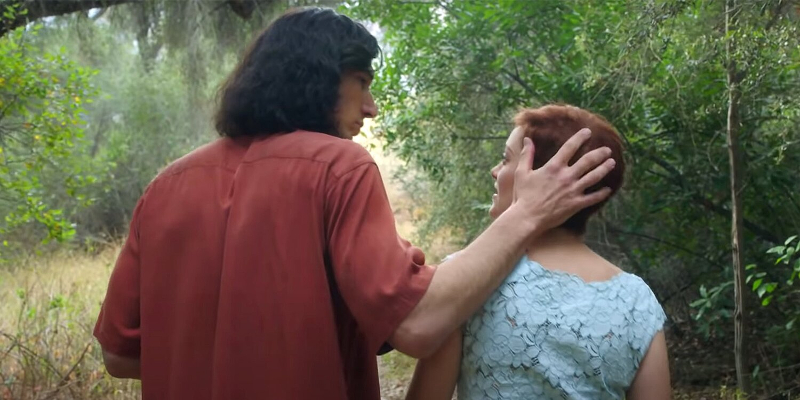 Comedian Henry McHenry (Adam Driver) and opera singer Ann Defrasnoux (Marion Cotillard) are at the pinnacle of their careers and madly in love with one another. They marry and have a child, Annette, who, like her mother, is possessed of an incredible singing voice. Ann's shows often end with her dying a tragic or horrible sometimes bloody death on stage while Henry's very different shows explore the type of comedy that exposes the life, personality or mindset of the practitioner.
Sparks' songs don't particularly delve into the whys and wherefores of Ann's opera repertoire. They explore her psyche a little as she's ferried around by a chauffeur, a cocooned celebrity indifferent to newscasts of Californian forest fires who slips into nightmares in which, as Sparks' song has it, Six Women Have Come Forward to testify about her husband's abusive behaviour towards them. This has resonances further down the plot, but at this point in the proceedings it's hard to say whether this is merely intended as a reflection of the #MeToo movement or attempting to comment on it – or, indeed, suggesting that her celebrity is turning her paranoid (with or without good reason).
Either way, I note this is a film written and directed by men and as with Cotillard's role in that other male-directed popular fantasy Inception (Christopher Nolan, 2010), her character ends up being marginalised. Although somewhat bizarrely, in Annette the character is to all intents and purposes replaced in the narrative by her daughter part-way through.
With leading man Henry, however, Sparks, Carax and Driver between them go a long way to unpacking two of Henry's stage shows (neither of which made me laugh, but then perhaps they're not supposed to). We watch him bring the house down one night, the audience completely on his wavelength. Another night starts badly when an anti-Semitic joke falls flat then proceeds to die with a story about him accidentally tickling his wife to death. This scenario is all the more disturbing for mirroring some of the couple's intimate behaviour in the bedroom.
Trying to get away from it all, the couple and their daughter take a sea voyage which ends in tragedy during a storm. Learning that his daughter can sing, Henry tours her with the help of Ann's former accompanist (Simon Helberg) who has now become a celebrated conductor in his own right. This too ends in tragedy, with Annette estranged and Henry in prison, visited there by his daughter in the final scene.
Something like 95% of the film is sung, and the songs are fantastic. They were shot and recorded live on the set, which adds a welcome immediacy to the piece. Annette is mostly a wooden puppet bought to life by puppet designers Estelle Charlier and Romuald Collinet, which given that she's exploited by her father once he discovers she can sing lends this plot strand and indeed the film overall an additional level of complexity. Only in the closing prison visit is Annette played by a real life human actor, five-year-old Devin McDowell, who is nothing less than devastating.
Perhaps because it's not a three-minute pop song but a two-hours-plus movie made by a European director interested in art rather than a Hollywood one trying to maximise the box office takings, it's unexpectedly dark, the more so the further on it gets. Yet Carax is in sync with the Maels' unique vision, and I, for one, would rather see the film as it stands than what Hollywood might have made of it in an attempt to woo audiences. As it's turned out, that may well make it attractive to those who would have flocked to the originally proposed touring band version (which is a huge demographic) as well as the completely separate audience of opera lovers. If they take the plunge and see it, I suspect neither group will be disappointed. Even if they find the movie decidedly weird.

Incidentally, it makes for very repeatable viewing. I've now had the pleasure of seeing it twice, and the second time it positively flew by.
Annette is out in cinemas in the UK on Friday, September 3rd.
Trailer:
It will also be on MUBI UK and Ireland from Friday, November 26th.
Meanwhile, MUBI UK & Ireland are screening one Leos Carax back catalogue title a month, as follows:
September: Holy Motors (2012)
October: Boy Meets Girl (1984)
November: The Night Is Young (1986)