Director – Ho Cheuk Tin – 2022 – Hong Kong – Cert. 15 – 119m
**
Confronted with a naked corpse, the residents of three separate flats in a tower block try to get shot of it before its discovery can reduce their apartments' selling prices – out in UK cinemas on Friday, April 21st
One of two films about living in a high rise released this week.
Hong Kong movies have a long tradition of knockabout and very silly comedy which are something of an acquired taste. Many of them are enjoyable enough. This particular entry, however, doesn't travel outside the Hong Kong Chinese culture very well. To an English, non-Cantonese speaker, it doesn't really work, coming over largely as irritating. (I suspect that, for Cantonese speakers, it may well play far more successfully.)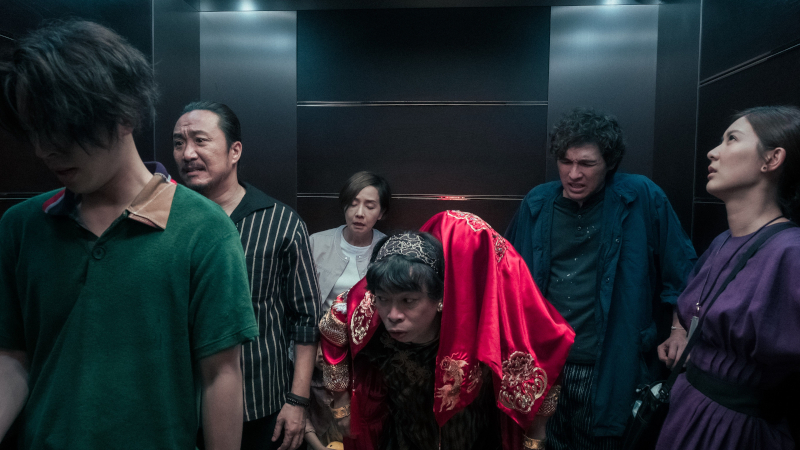 Half watching a TV show on his dashboard phone about the problems Hong Kongers face around ever-escalating real estate prices, Ming To (Wong You Nam from Ip Man, Wilson Yip, 2008) makes the journey in his VW van through gridlocked traffic, past the building's SG (security guard) Lee (Sheung-ching Lee) of the tower block Seaside Heights to Flat 14A and the bedroom of sexy air stewardess Yana Chung (Jennifer Yu Heung-Ying from Shadows, Glenn Chan, Bure Li, 2020; Tracey, Jun Li, 2018) for some horizontal refreshment under the sheets.
Alas, their coitus is hilariously interrupted by the appearance of their small daughter Yoyo, back home from school unexpectedly early, and Yana's mum Meghan So (Teresa Mo Sun-Kwan from Mama's Affair, Kearen Pang, 2022; Hard Boiled, John Woo, 1992). While Yoyo precociously explains the spelling of the English language words she's learned today, the adults discuss the couple's housing situation. Ming and Yana want to buy an apartment, which they can do if Meghan mortgages the current apartment and lets them use the money, but she isn't prepared to do that. Yana's grown-up and surveillance culture-obsessed brother Kingston (Alan Yeung Wai-LeunYeung Wai-lun from The Sparring Partner, Ho Cheuk Tin, 2022), mostly referred to by the generic 'Uncle', also lives in the small flat.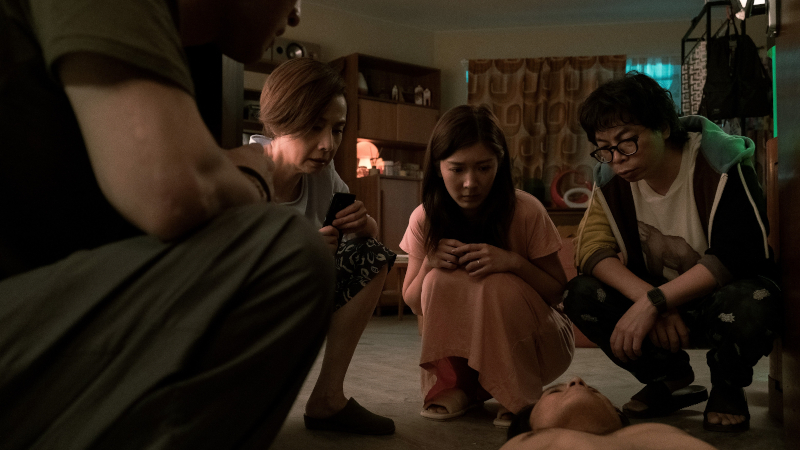 Then the unthinkable happens. They discover a naked, male corpse in the corridor outside their flat. There's nothing in the subtitles to inform English-speaking viewers of the similarity between the Cantonese word for a male corpse and the term used for pro-government 'Blue Ribbon' demonstrators, which, once you're aware of it, indicates a whole other political meaning to the proceedings here.
Initial thoughts of calling the police rapidly give way to fears about a dead body devaluing the monetary value of their residence, and they decide they must get rid of the body. So they try to palm it off on their neighbours, who understandably feel exactly the same way that they do.
First up are elderly couple Boron Chan (Lau Kong from Green Snake, Tsui Hark, 1993; Hard Boiled, John Woo, 1992; A Moment Of Romance, Benny Chan, 1990) and Betty Lee (Bonnie Wong Man-Wai from Young And Dangerous 5, Andrew Lau, 1998; A Moment Of Romance, Benny Chan, 1990) in 14C who have reached the time of life where, rather than agonising over upscaling their apartment, they are choosing the burial plot that one if not both of them are soon likely to require as their final resting place. She is obsessed that he needs to constantly wash his hands.
Next come cab driver Bear Cheung (Ronald Cheng from Chilli Laugh Story, Coba Cheng, 2022, Vulgaria, Pang Ho-cheung, 2012) from 14D – whose wife left him years ago – and his layabout son Messi (Edan Lui who previously played son to the same actor in Chilli Laugh Story). With everyone constantly trying to pass the buck to everyone else, the occupants of the three flats attempt an uneasy truce as they try to concoct a plan to get rid of the body.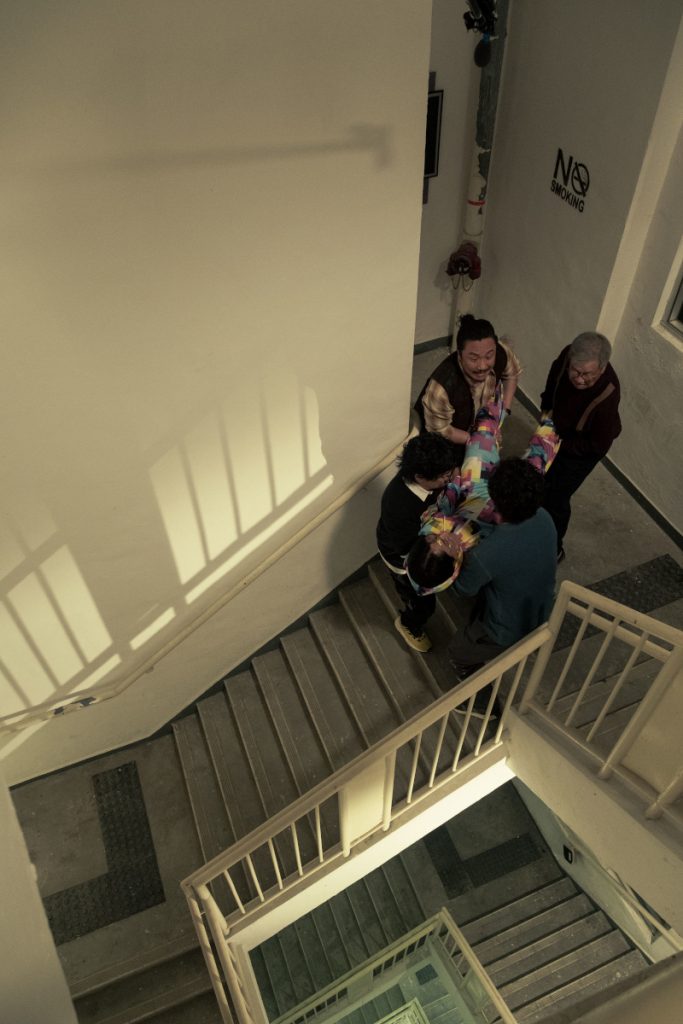 Meanwhile, downstairs neighbour Sue Yue (Hanna Chan), planning to move out the next day to get married, comes up to 14A to complain about the noise. Elsewhere, the building's SG Lee has returned early from his holiday because of reports of a nude runner appearing in the buildings corridors, who he intends to catch.
Thus the stage is set for a fantastic cast of Hong Kong comedy talent to have a field day and take the audience along with them. While the Cantonese-speaking cast all appear to be having a good time, anyone unfamiliar with Hong Kong or relying on subtitles (lazily translated with numerous instances of what are probably for the most part gratuitous uses of the f-word, presumably because the first-language Cantonese subtitlers involved haven't quite grasped just how rude the word is in English) won't respond to the Hong Kong-specific, real estate material and will likely find the comedy element insubstantial and grating after a while. (I write this as a fan: I normally lap this stuff up.)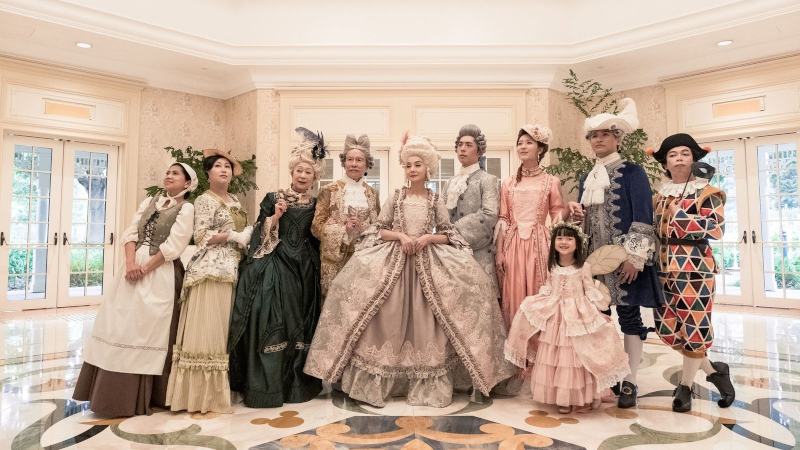 A subplot about the apartments being sold as places of faux 18th Century French lifestyle look just plain bizarre to Western eyes. A curious flashback about the cabbie's wife leaving him throws in black and white footage in which he wears a yellow shirt while his son where's a white and green top, an aesthetic that adds little if anything to the whole and must have cost a packet to realise. The proceedings perk up a little when they throw in the encounter with the suspicious security guard in the stairwell and with the appearance of the soon to be married downstairs neighbour, but it's all too little, too late. A great shame.
Over My Dead Body is out in cinemas in the UK on Friday, April 21st.
Trailer: