Director – François Ozon – 2022 – France – Cert. 15 – 85m
***1/2
A re-imagining of R.W. Fassbinder's all-female-cast The Bitter Tears Of Petra Von Kant, with the three central gay characters switched from female to male – plays in cinemas from Friday, 30th December
Köln, 1972. Peter von Kant (Denis Ménochet) is a successful film director who resides in his apartment with his personal assistant Karl (Stefan Crepon). He is visited by his old friend, the singer Sidonie (Isabelle Adjani), whose blown up picture adorns one of his walls. She introduces him to young man of Arab extraction and actor wannabe Amir Ben Salem (Khalil Gharbia) with who Peter becomes besotted and who subsequently moves in with him.
Their passionate relationship is, however, doomed, with Amir suddenly leaving some months later on the pretext of visiting his wife when she unexpectedly phones him from a nearby city. After Aamir has left him, Peter becomes an emotional wreck. On his birthday, he waits on the phone, hanging up in seconds when he realises the caller isn't Amir. He vents his emotional distress on his three birthday visitors: his mother Rosemarie (Hanna Schygulla), his boarding school student daughter Gabrielle (Aminthe Audiard) and Sidonie.
Writer-director Ozon adapts The Bitter Tears Of Petra Von Kant (Rainer Werner Fassbinder, 1972) changing three key characters in the original cast from LGBTQ women to men, the eponymous character's job from fashion designer to film director, and the location from Bremen to Köln. He also changes the spoken language from German to French (but, curiously, not the German city name Köln to the French or English name Cologne). With the exception of Fassbinder regular Hanna Schygulla, who played Karin, the female version of Amir, in the original (and also appeared in Ozon's previous film Everything Went Fine, 2022), the cast are French. All this has a peculiar distancing effect since the characters and location are German. Then again, changing the three gay main characters from female to male brings it much closer to Fassbinder himself who, while he may have to at least some extent based Petra von Kant on himself, was male not female.
Like the original, the piece takes place inside the lead character's apartment, although the location feels roomier in Ozon's version and he allows himself the occasional shot outside of the building, making the whole thing slightly less claustrophobic. Curiously, although the original was in part adapted from various Fassbinder plays it doesn't feel particularly stagey whereas Ozon's more opened out version feels at times distinctly like an adaptation of a theatre play (which, being an adaptation of a film, it clearly isn't). Ozon's version has more walls covered with photographic blow ups – in addition to the one on one wall sourced from a classical painting featuring various nude figures, as per the original film's art direction, there's an enlargement on another of Sidonie's face.
What really brings Ozon's version to life, though, is the casting. (Not that the original isn't brilliantly cast.) Ménochet's Peter runs a whole gamut of moods from charming, caring, besotted and (in his treatment of Kurt) reliant, dismissive and downright cruel, all the way through to completely out of control in the final reel which has echoes of his sociopathic and ruthless father in Custody (Xavier Legrand, 2017). Like the film itself, Ménochet as Peter feels more open and less contained than did Margit Cartensen as Petra.
Adjani as Sidonie feels like a pop star (in the original, the character has no such celebrity status, so this raises the idea of Peter and his few friends belonging to a group of successful artists). Meanwhile, the ethnic background of Gharbia's Amir, replacing the original's iconic Schygulla, adds a whole other layer in the background around French colonialism and its domination of parts of North Africa. Having original cast member Schygulla return to play the mother is a nice touch, yet the role doesn't give the actress nearly as much to do as did the lover character in the original.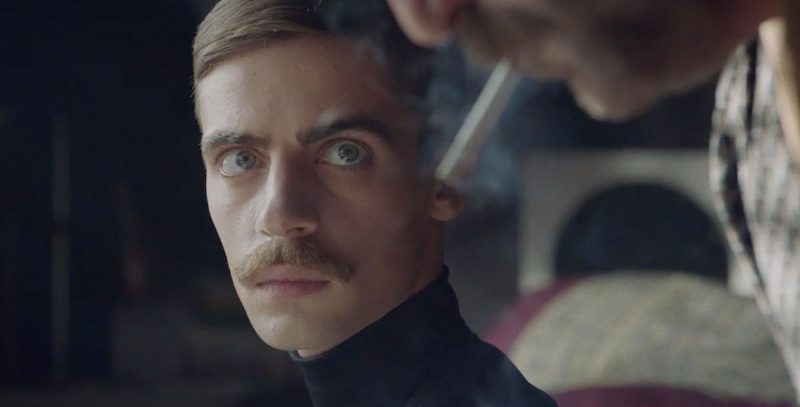 The most extraordinary performance here, however, comes from Crepon who replaces Irm Hermann's black dress-wearing, live-in assistant with a buttoned down, moustachioed adherent. In both versions the character is devoted, in love with and cruelly treated by their employer, yet where Hermann made her largely silent and dutiful character as iconic as Petra and her lover, Crepon (who often disappears through a door rather than lurking quietly in the background) steals the film, despite not being one of Ozon's production's marquee names.
In the end, though, it's hard to tell who will be interested in this film outside of arthouse and Fassbinder buffs, however good Ménochet, Adjani and – particularly – Crepon are in it.
Peter Von Kant is out in cinemas on Friday, 30th December. It previously played in the BFI London Film Festival 2022 which ran from Wednesday, October 5th to Sunday, October 16th in cinemas and on BFI Player. The Bitter Tears Of Petra Von Kant is on BFI Player subscription.
Trailer (US):
LFF 2022 Trailer:
Trailer – The Bitter Tears Of Petra Von Kant (Criterion):