Directors – Dima Ballin, Kat Ellinger – 2022 – UK – 112m
***
The story of one of Europe's most idiosyncratic and overlooked directors – on the Arrow Video Channel from Tuesday, February 14th
In the early 1960s when the French New Wave was taking off, the idea was to go out and make movies on the streets, an approach intended to inject them with freshness. That movement is present in the backdrop of this film, because while it was achieving a huge international profile, fledgling French film maker Jean Rollin who similarly wanted to go out and shoot movies without all the old formal constraints was being largely ignored by industry, critics and audiences.
Finance was always a struggle, and he soon found himself making features within European sexploitation cinema, where directors had a great degree of freedom provided they incorporated a certain amount of nudity and sex.
There were lean periods too where he worked directing softcore and hardcore porn to survive; aside from chronicling when these happened in his career, this documentary doesn't go into them at any length. Overall, it takes a chronological approach to Jean Rollin to give some idea of his life, career and filmography.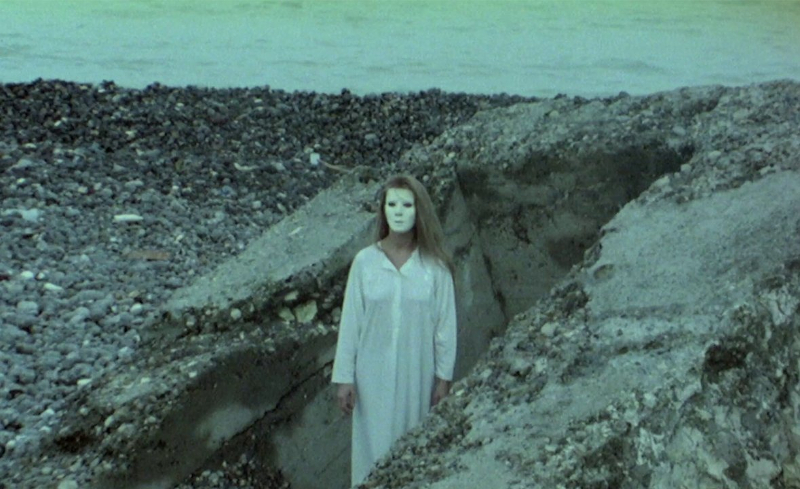 Jean Rollin was born in 1938 to parents who lived a Bohemian lifestyle and separated while he was small. Jean's father was an actor and theatre director (who doesn't get much of a look in here) while his mother Denise moved in significant artistic circles and was friends with Jacques Prévert, Jean Cocteau and, perhaps more significantly, Left Bank Surrealists Georges Bataille (with whom she had an affair between 1939 and 1941) and André Breton.
Bataille was intensely anti-Catholic, the point here illustrated with images of anti-Catholic erotica featuring, among other things, priests as wolves. Bataille's book L'Histoire De L'Oeuil / The Story of the Eye is cited as a major, later influence on Jean's work, notably for the character Simone who mixes innocence and perversity; her transgressions are natural in the sense that they aren't a revolt against an imposed / learned Catholic morality because she grows up outside of any such framework.
In later life, Rollin would credit his mother with the Dada / Surrealist influence on his work. She is described as "refusing to leave her childhood behind," as demonstrated by a story of Rollin as a child walking on the snow, he and his mother kicking slush around like children, scandalising the passers-by.
At age five, she took him to see Le Capitaine Fracasse (Abel Gance, 1943) and from that moment on, he knew that the medium of cinema was what he wanted to be involved in his life; he wanted to tell stories: he wanted to be an Orchestrator of Storms. In later childhood, he hung out at the Cineac in Paris, a cinema for people to use between catching trains. It played US serials with exotic titles like Tarzan, The Mysterious Dr. Satan and The Panther Girl Of The Kongo; you'd wait a week for the next episode. For Rollin, the words "à suivre" ("to be continued") became magical. He also developed an interest in bandes dessinées and was a voracious reader of books (Jules Verne was a favourite). His mother bought him a typewriter at age fifteen on which he wrote stories and film scripts.
He made inroads into the film business where he got into all aspects of film production, worked with director Claude Lelouche, and made his own short films. He also found time to hang out with practitioners of the French free jazz movement, something this documentary sadly doesn't go into at any length, although it may well have been a factor influencing the freewheeling, largely non-narrative nature of his films.
His big break came through US-born producer Sam Selsky for whom Rollin's Le Viol De Vampire / Rape Of The Vampire (1968) began as a half hour film intended as a programme filler for an hour long feature but which itself grew in fits and bounds to feature length. It secured a cinema release towards end of May 1968 when France was in turmoil and lack of US movies meant there were holes in theatrical programming schedules.
Sam kept insisting that Jean add nudity and sex for commercial interest, and a series of vampire movies followed, among them Le Vampire Nue / The Naked Vampire (1970) – which featured 'good' mutant vampires fighting the forces of capitalism – and Le Frisson Des Vampires / Shivers Of The Vampire / Sex And The Vampire (1971). Later high points include La Rose De Fer / The Iron Rose (1973) – in which a couple spend a night in a cemetery – and Fascination (1979) with its scythe-wielding, female protagonist.
Jean continued making movies right up to his death in 2010. The release of his films on VHS in the UK garnered him an army of appreciative fans and, in his later years, invitations to film festivals, something he appears to have cherished according to those close to him.
Interviewees include actress Brigitte Lahaie, a former porn star in whom the director saw other qualities; colleague and friend Veronique D-Travers; Redemption Video founder Nigel Wingrove (responsible for releasing many of Rollin's films in the UK, helping them to find an audience here); and critic Virginie Sélavy whose interests include transgressive cinema. All of them are possessed of the greatest respect for Rollin, holding him in high regard, and the documentary feels at times a little too adulatory for its own good. It's nevertheless a useful introduction to an often overlooked talent on the margins of cinema.
Orchestrator of Storms: The Fantastique World of Jean Rollin is on the Arrow Video Channel from Tuesday, February 14th.
Trailer: