Director – Miwa Nishikawa – 2020 – Japan – 126m
***1/2
A former yakuza killer having served his sentence for murder comes out of prison and attempts to go straight – plays UK cinemas in the Japan Foundation Touring Film Programme 2023 between Friday, 3rd February and Friday, 31st March
Masao Mikami (Koji Yakusho) completes his prison sentence and comes out on good terms with the prison staff, who helpfully advise him, in an almost friendly manner, of not returning to his former ways. While it is indeed the convict's intention to live within the law from here on in, there remains a gulf between him and those charged with guarding him. He thinks the courts should have given him a lesser sentence for the killing he committed, i.e. manslaughter motivated by self-defence not murder. However, he doesn't appear to bear grudges about this. He seems to have a problem with losing his temper and controlling his anger, something he's going to have to work on if he is to survive as a law-abiding citizen.
The Shojis (Isao Hashizume and Meiko Kaji), a sympathetic couple of around his age, provide him with free bed and board until he can find a job and get back on his feet. He picked up considerable sewing machine skills in the prison workshop, but it turns out no-one in the rag trade will employ an ex-con. He could become a truck driver, but his driving licence expired while he was in prison and he needs to retake the test to prove himself competent. When he fails the test, it's obvious he needs to take driving lessons in order to pass. This costs money, and his caseworker at the local jobcentre attempts to get him a payment to cover the costs, but ultimately fails. Eventually, he gets a position as a trainee care worker in a nursing home, something for which he seems to have a genuine aptitude.
He gets by with a live and let live attitude, but confronted by troublemakers (for which read yakuza, or would-be yakuza, types) he picks fights with or stands up to them, generally getting the better of them. This applies to a lippy young man at his noisy downstairs neighbours' flat who doesn't think he should be asking them to keep the noise down late at night.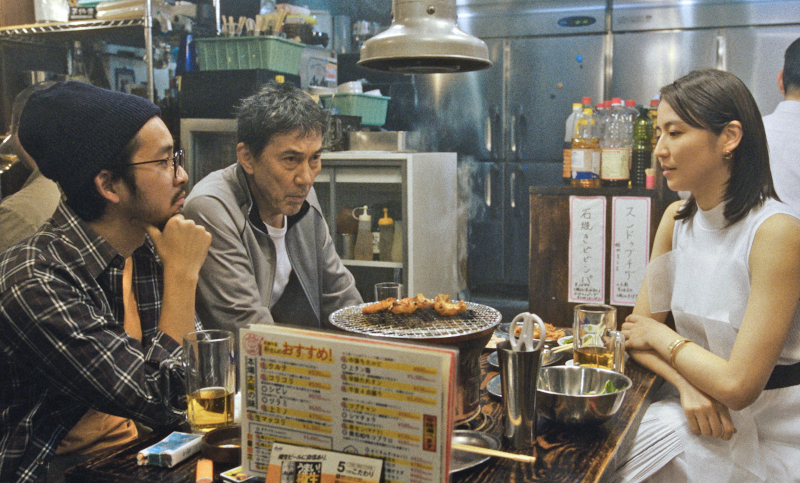 Fascinated by his story – he was abandoned by his mother at age four and escaped from the orphanage in which he was placed at 11 to drift into as life of crime – youthful film director Tsunoda (Taiga Nakano) and his hard-nosed TV magazine segment producer Yoshizawa (Masami Nagasawa) make overtures to Mikami with a view to doing a piece on him.
A local shopkeeper and neighbourhood association chairman accuses him of shoplifting on grounds of prejudice, and forced to make an about-turn. After this, the two bond, and one night Mikami violently rescues him from two attacking thugs. Director Tsunoda and Producer Yoshizama are covertly filming him at the time, but when the former refuses to use the footage, the latter drops him for it. However, the director is concerned for the ex-con and attempts to get to know him better.
The lure of Mikami's former life, meanwhile, is represented by a bravura and lavish drone shot flying over nighttime Tokyo (used out of context in the trailer to make the film look far more lavish a production than it actually is) accompanied by soft, soothing, smooth jazz and represented by the character of his contact, the yakuza boss Shinoimaba (Hakuryu) and his wife (Midoriko Kimura) who are keen to give him work but make it clear that the yakuza business they all know is no longer flourishing like it once was.
Towards the end as Mikami struggles to do the right thing, the narrative attempts to resolve in predictable montage sequences and ever-so-slightly overly sentimental music. Which is a pity, because for its first hour and a bit the social realism aspect of the picture is fairly hard hitting, underscored by hugely effective flashbacks which reveal elements of Mikami's pre-prison life in a series of little glimpses.
You get a picture of life at the bottom of the Japanese social pile being beset with intimidating bureaucracy in order to get anything done, and the feeling that although the system is bad, there are good people working within it trying to obtain good outcomes for those in need of them. Mikami knows that if he were to revert to yakuza life, there would be no such bureaucracy, a situation that makes it that much harder for him to go straight.
Under The Open Sky plays UK cinemas in the Japan Foundation Touring Film Programme 2023 between Friday, 3rd February and Friday, 31st March. This is accompanied by a series of free talks on Zoom, including one by this film's director Miwa Nishikawa on Thursday, 23rd March at 13.00hrs.
Trailer: