Directors – Aaron Nee, Adam Nee – 2021 – US – Cert. 12a – 112m
***
A jaded woman's romantic adventure novelist and her cover model find themselves in a real life jungle straight out of one of her books – out in cinemas on Wednesday, April 13th
Ever since her archaeologist husband died five years ago, novelist of trashy, erotic women's adventure fiction Loretta Sage (Sandra Bullock) has had writer's block. Her publishers love her books because they sell in huge volume, but she's really an archaeology nerd who hates the novels she's written. A friendly nudge from her editor Beth (Da'vine Joy Randolph), however, helps her complete another one, so it's on to the promotional tour, something else Loretta hates.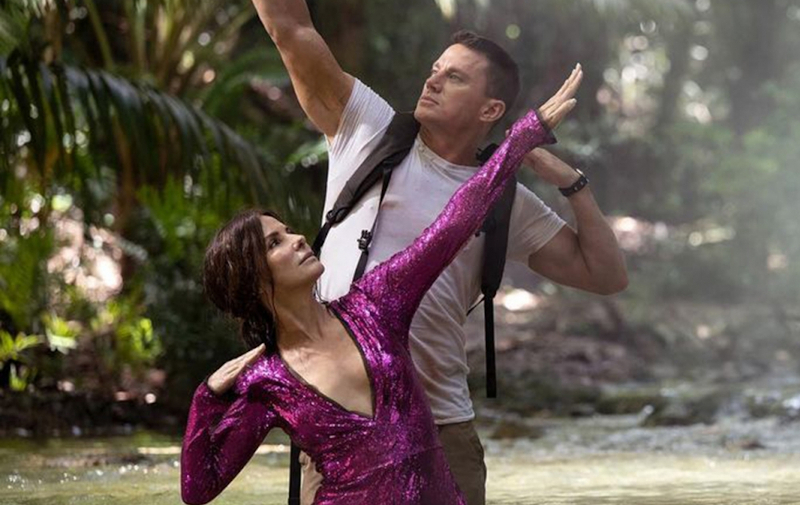 She's told exactly what to do by Beth and new social media manager Allison (Patti Harrison) This time round Loretta is required to wear a one-piece, cleavage-revealing, purple sequinned outfit that she (understandably) really doesn't like as she is interviewed once again before fan audiences by male model Alan (Channing Tatum), whose appearance alongside her on the front cover of her books has helped propel her (and him) to stardom, effectively casting them as her heroine Angela and sidekick Dash. However, she's had enough of Alan, particularly the fact that his top always seems to get gratuitously removed one way or another at these events.
Sure enough, the first promotional date on the current tour is no different. However, as she's leaving, instead of getting picked up by a taxi, she finds herself in a car with heavies taking her to see Abigail Fairfax (Daniel Radcliffe), a lesser known member of the wealthy Fairfax family, who has actually found the Lost City of her books on a remote island and wants her help in translating ancient inscriptions so that he can find its ruler's missing crown. Refusing his generous offer, she's chloroformed and kidnapped, waking up in his private jet over the Atlantic which is flying them to his archaeological dig site at the Lost City.
Alan and Beth track her movements via a mobile phone app (!), with the former contacting meditation guru Jack Trainer (Brad Pitt) for help then asking to tag along to impress Loretta, who he actually likes. A Lot. Cue five or ten minutes of superb mayhem with Pitt subduing numerous Fairfax stooges, stopping short of breaking their necks by instead whispering charms to them to send them to sleep, presumably intended to prevent the violence from alienating a female audience demographic. Then Pitt is suddely gone.
This leaves us with Sandra Bullock (still in the purple sequinned onesie) and Channing Tatum fleeing through the jungle from the maniacal Radcliffe and his motorcycle-riding minions, which is basically the rest of the film. There's a volcano which rumbles a lot and shakes the grounds, but never actually erupts (or, if it does, we don't see it), but you can't help feeling it's all a bit weak and a lot more material could have been packed in to the running time.
Some nice gags along the way include Brad Pitt's car turning out to be not the obvious, huge vehicle he walks towards but the tiny, blue vehicle parked beyond it, the rescue of Loretta when there's no time to untie her from a chair, and some thoroughly entertaining bit parts such as the freelance pilot Oscar (Oscar Nuñez) who offers to get Beth to the island when her local flight is unexpectedly cancelled. No one will leave remembering the visual effects; however, these include an all too briefly seen Shangri-La setup accessible through a volcano-side crawlspace tunnel which looks great on a really big screen.
Overall, this is undemanding fluff likely to disappear into obscurity in the long term. Yes, it's stupid and silly. Yet it's also an audience-pleaser with two effortlessly charming leads and a lot of fun – well, a bit of fun -– which may be exactly what movie-goers want in these dark times. Be warned, though – all the best stuff is in the trailer.
The Lost City is out in cinemas in the UK on Wednesday, April 13th .
Trailer: