Directors – Guillermo del Toro, Mark Gustafson – 2022 – US – Cert. PG – 114m
*****
Created as a puppet by a bereaved, religious woodcarver father, a little wooden boy must make his way in a world of ruthless show business, Fascism and war – stop-frame puppet movie is out on Netflix on Friday, December 9th
Co-helmed by Will Vinton alumnus Gustafson, del Toro's Carlo Collodi adaptation sees him return to the theme of the Catholic Church collaborating with Fascism that he previously explored in Pan's Labyrinth (2006). The story roughly follows the familiar template of Disney's Pinocchio (1940), even down to punctuating the action with songs, but with the loosely defined place and time of a fairytale shifted to a very specific Italy before (briefly) and during World War II, with Pleasure Island replaced by a boys' military training camp. The emphasis has shifted, too, from the notion of the narrator cricket character as conscience to coming to terms with mortality, although the idea that just because things appear to be fun they may not necessarily be good is knocking around in there too.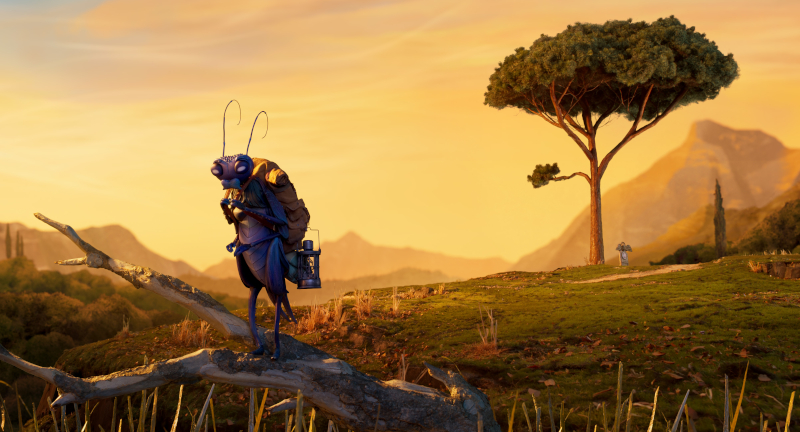 A narrator who will later identify himself as Sebastian J. Cricket (voice: Ewan McGregor) introduces us to churchgoing woodcarver Gepetto (voice: David Bradley), who is working on a statue of Jesus Christ crucified for the local church, raising dutiful son Carlo (voice: Gregory Mann), an equally religious child with a true sense of wonder at the world around him, including planes in the sky. Alas, these are a harbinger of war, one night releasing the last of their bombs onto the church as the pair are leaving, killing the boy and destroying the father's happiness.
Cricket has found the perfect home inside a tree, which one day is taken by Gepetto as the body for the wooden boy he's constructing, with the part in which Cricket lives turned into the torso with Cricket's home intact, so that he effectively lives inside the boy. On the night that Gepetto has all but finished making the boy, Sebastian J. Cricket witnesses a blue wood sprite (voice: Tilda Swinton) bring the wooden boy to life.
Unable to understand why the local church congregation worships the wooden Jesus even as they reject the boy's wooden otherness, Pinocchio (voice: Gregory Mann again) undergoes a series of misadventures caused by his willingness to embrace the world around him and his basic misunderstanding of right and wrong, demonstrated when he doesn't realise that burning up his feet by sitting too close to the fire is a bad thing. The local priest (Burn Gorman) provides moral support for the Fascist.
Gepetto carves him new feet and packs him off to school, but instead he's found by Spazzatura (voice: Cate Blanchett), maltreated monkey assistant to travelling puppet showman Count Volpe (voice: Christoph Waltz), by whom the boy is tricked into signing a bad contract (on the promise that Volpe will send half Pinocchio's earnings to Gepetto, which he never does).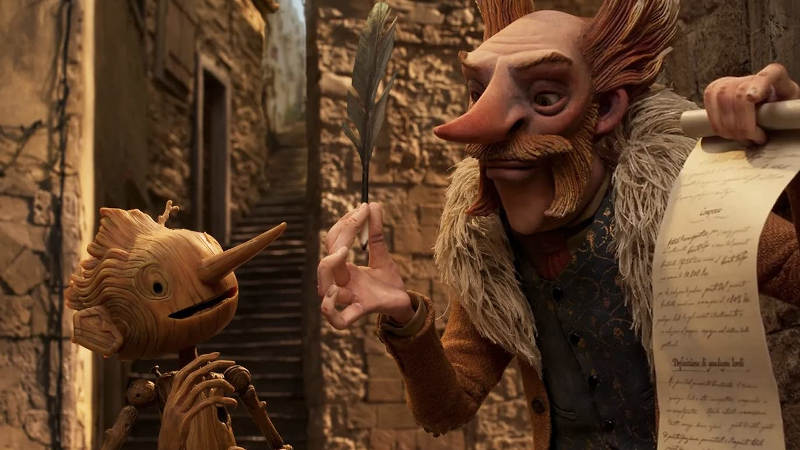 Gepetto and Cricket go out to search for the boy, and while at sea are swallowed by a monster fish. Pinocchio, meanwhile, together with local boy Candlewick (voice: Finn Wolfhard) and other boys, undergoes basic soldier's training on an island camp run by Candlwick's father, the Fascist politician Podesta (voice: Ron Perlman), leaving after a fight to find his father.
In the course of his misadventures, Pinocchio's nose grows when he lies, at one point providing a useful means of escape when he and his companions are trapped on a balcony. The nose device is upstaged by his multiple deaths. Pinocchio is killed several times – run over by a truck, shot by a bullet, falling off a cliff – however because he is not mortal, the sister of the wood sprite who has two snake tails (voice: Tilda Swinton again) simply keeps him in her chamber, a little longer on each occasion, before sending him back to the land of the living to try again. On the last occasion, when he wishes to go back and save Gepetto before time runs out, he agrees to renounce his immortality in exchange for being sent back immediately. After all his adventures, as Pinocchio reaches old age, his father and other companions die one by one until, left alone, he comes to terms with his own mortality.
Curiously, while most of the characters speak English with a strong Italian accent, the lead characters speak a much more Anglicised English. It would have been nice to see these sets of voices being more consistent (either way). Equally curiously: the only other Volpe I can recall from the movies is one of the S.P.E.C.T.R.E. agents in James Bond movie Thunderball (Terence Young, 1965). She would be about the right age to be the Count's daughter.
An effective, recurring gag concerns poker players in the anteroom to the afterlife, recalling the Mah Jonng players in Big Fish & Begonia, (Liang Xuan and Zhang Chun, 2016). And like Ponyo (Hayao Miyazaki, 2008) the film is not afraid to show a parent figure getting drunk in a children's film (one could argue whether or not Pinocchio is a children's film, but that's another issue).
Perhaps because there is a certain magic to the process of imparting life to puppet characters through the medium of stop-motion, something about it resonates with the story of Pinocchio, a wooden boy brought mysteriously to life. The character's wonderment at the world around him also seems to echo in the idea of building an entire world in a series of miniature model sets and populating it with animated puppets (lovingly built by the legendary Mackinnon & Saunders – The Boxtrolls, 2014; Fantastic Mr. Fox, 2009; Chicken Run, 2000). The technical side of the animation is a joy to behold, shot by veteran stop-frame cinematographer Frank Passingham (Kubo And The Two Strings, 2016; The Pirates! In An Adventure With Scientists!, 2012; The Secret Adventures Of Tom Thumb, 1993). Jim Henson's Creature Shop also had some sort of involvement.
With its otherworldly two blue sisters, its wooden Christ and innocent boy, its showman and puppets, its vivid representations of war, loss and grief, this is unlike any animated film, stop-frame or otherwise, you've ever seen. Like the Disney film, it's both magical and memorable. Yet it's closer in tone – and, indeed, appearance – to del Toro's live action Spanish-language films (Pan's Labyrinth, 2006; The Devil's Backbone, 2001) than anything else. Its handling of themes of religion, war, politics and – above all – grief and mortality are remarkable. It is suitable for children, but watch it with them and be prepared for some intense conversation afterwards. Altogether, an extraordinary piece of work.
Guillermo del Toro's Pinocchio is out on Netflix on Friday, December 9th.
Trailer: