Directors – Michael Dweck, Gregory Kershaw – 2020 – US, Italy – Cert. 12a – 84m
*****
Italians carry out a trade their families have pursued for generations with their beloved, faithful and trained dogs – in cinemas from Friday, July 9th
Cinema is about many things. Among them, it's about the camera, the eye, the ability to observe, to watch. This facet of the medium is immediately apparent as The Truffle Hunters opens with a long shot of a picturesque section of hillside forest, its foliage a cacophony of greens and yellows. We become aware of movement in the vegetation. Two dogs are moving around separately, purposefully, under the watchful eye of their human master, an old man. He – and his animal entourage – are truffle hunters, seekers after the delicacy that is the white truffle which has refused all attempts at systematic cultivation and grows only in Langhe, Piedmont, Northern Italy. For mysterious reasons on which no-one agrees.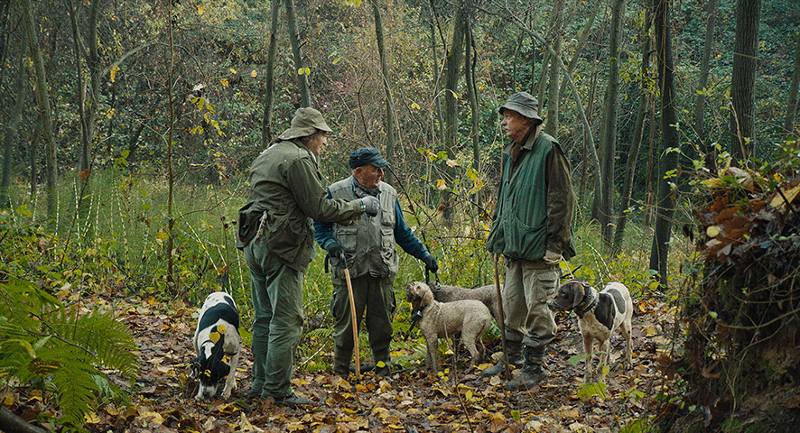 These men (they're all men) are now in their seventies and eighties. They all have their own, jealously guarded territories for hunting the truffles. We watch as a younger man tries to prize the whereabouts of likely truffle finds out of an older man, but he won't have it. He'll go with the man and help him on the man's own turf, or he'll go with him to an area neither have tried before, but he won't take him to his own patch. He'll probably take his secrets with him to the grave.
Meanwhile, he talks affectionately to his dog Birba (because the men in this film talk to their dogs we get to know the canine names more readily than the human ones) about how he the hunter needs to find a nice woman who can look after the dog when he's gone. He's not the only one – other hunters do the same thing and it's clear that there are deep bonds between the animals and the men who own them. You also sense these dogs take a real pride in smelling out and unearthing the truffles for their masters.
While some footage is of the men and dogs relaxing after a hard day's work – watch out for the sequence of the dog getting cleaned up in the bath by his owner – much of it is out in the woods, or driving there or back. The owner whose car we follow – who has a penchant for beating a drum kit in his back garden – is sometimes seen through a doggy-cam attached to one of the animals to give a dog's eye view climbing out of the van's rear cage, racing joyously along a woodland path following the dog in front or, in close up, digging.
There are surprising concerns among these men. Some areas have been baited with poison by outsiders and one owner is looking at muzzles to protect his dog Finoa from accidentally consuming strychnine on the job.
Most are unmarried, but Carlo is constantly being summoned by his missus whenever it gets dark. This is hard for him since hunting for truffles at night is clearly one of his great pleasures in life. Along with standing beside his wife as the pair empty vast containers of grapes into a wine press. Or being blessed alongside his dog Titina by the priest in the local Catholic church who assures him that in heaven, he'll carry on hunting truffles because it's what he's good at and it brings pleasure to so many people.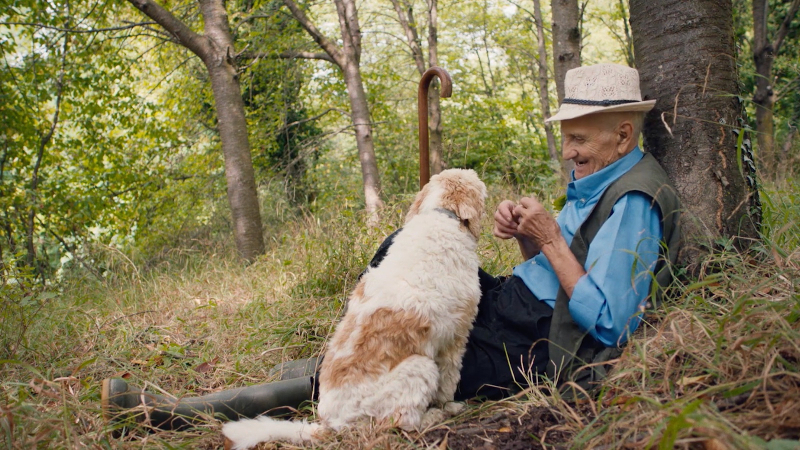 Perhaps the most endearing hunter of all is the one who's had enough of the business and stopped, despite entreaties from varies parties to start up again. He sits at his typewriter with a bottle of wine trying to put his reasons on to paper, speaking them out loud as he does so, one memorable and hilarious rant ending in the words, as the subtitles put it, "let's do something, for fuck's sake," earning this otherwise surprisingly gentle film something much higher than a U certificate.

Others connected with the truffle business are also portrayed – dealers on the phone in French lamenting they can't send their prospective buyers the smell of the truffle in their hand, buyers negotiating face to face with the hunters, two local dealers talking with one another about members of their fraternity acting not strictly above board, a woman explaining to her two younger woman assistants that they need to place the wine bottles on either side of the display dish "just so" to perfectly set off the truffles sitting in the cushion atop it.
In short, this gentle and generous film conjures a vanishing set of practitioners in an idyllic setting. It's an hour and a half you'll be glad you passed in their company, and an experience you'll likely want to revisit over and over. Quite possibly the most sheerly joyous film you'll see all year. A very real pleasure.
The Truffle Hunters is out in cinemas in the UK from Friday, July 9th.
Trailer: