Director – Mamoru Hosoda – 2021 – Japan – Cert. PG tbc – 121m
*****
A bereaved, teenage girl starts to emerge from her shell when she signs up for a virtual world on her smartphone – out on Blu-ray and DVD from Monday, June 27th and 4K UHD Blu-ray including the soundtrack from Thursday, July 7th
'U' is an internet, virtual world of high tech, futuristic architecture. When you sign up, you receive your own personalised avatar built from your biometrics. You have the chance to start over in a new world.
Teenager Suzu (voice: Kaho Nakamura) could do with that chance. She lives with her dad (voice: Koji Yakusho from Mirai, Mamoru Hosoda, 2018; The Third Murder, Hirokazu Kore-eda, 2017; Pulse, Kiyoshi Kurosawa, 2001; Shall We Dance, Masayuki Suo, 1996; Tampopo, Juzo Itami, 1985) in a small town somewhere in the East of Japan. She doesn't really communicate with people at her school – not Luka (Tina Tamashiro), the sax player in the school band, not Kamishin (Shota Sometani from To The Ends Of The Earth, Kiyoshi Kurosawa, 2019; First Love, Takashi Miike, 2019; Foreboding, Kiyoshi Kurosawa, 2017; The Boy And The Beast, Mamoru Hosoda, 2015; Himizu, Sion Sono, 2011) who set up the canoe club but hasn't been able to attract any members, not Shinobu (Ryo Narita) who proposed to her – well, told her he wanted to protect her – when she was six.
Suzu has happy memories of her mother (Sumi Shimamoto, voice actress from Weathering With You, Makoto Shinkai, 2019; My Neighbour Totoro, 1988; Nausicaä Of The Valley Of The Wind, 1984; The Castle Of Cagiostro, 1979; all Hayao Miyazaki), but then something happened, a bereavement to which she's never come to terms. Specifically, her mum waded into a river to save a child stranded on an island and was swept away by the current. The child was later saved by other people.
So it's a surprise for her when she signs up for 'U' to find herself given a beautiful avatar like a heroine out of a fairytale who will later be renamed from Bell to Belle ("as in French for Beauty"). Not only that, but floating through the air in large public spaces amidst the buildings, she starts to sing. Her singing affects people and she rapidly becomes an internet sensation, some of the attention negative and some of it positive.
She also encounters a hideous and embittered beast (Takeru Satoh from One Night, Kazuya Shiraishi, 2019; Rurouni Kenshin, Keishi Otomo, 2012 and sequels) who lives in a castle outside the high tech environment. There are occasional settings recalling the chandelier and ballroom from Beauty And The Beast (Walt Disney Pictures: Gary Trousdale, Kirk Wise, 1991) and the movie is clearly inspired by the same myth with a twist for the internet virtual reality age.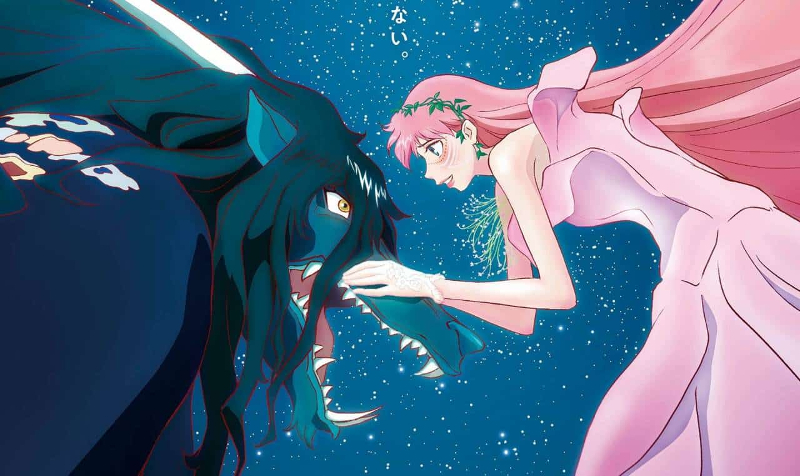 The plot constantly zips back and forth between the real world, rural small town, domestic and high school life, with teenagers and others looking at 'U' on their smartphones, and the virtual world of 'U'. itself.
'U' is a lavish creation, rendered in CG so that parts of its heavily populated, urban cityscape appear to go on into the distance forever with lots of vibrant night time glow and colour, a pop video sensibility never resting and constantly flying through the air, contrasting strongly with the Gothic interiors of the Beast's vast but dimly lit and secluded mansion.
If the scenes in 'U' are always at night, those in Suzu's town are in the daytime. The first time we meet her (after a prologue explaining 'U'), she's under the duvet in her room looking at a mobile phone. We are immediately aware how small her typical Japanese teenager's bedroom is compared to the vast spaces of 'U' we've just left. Outside her house, there's a lot of vegetation which is noticeable by its absence in 'U'.
While there's never a dull moment in the parts of the film taking place within the flashy, non-stop world of 'U', the big surprise is that the other parts of the story, in the real world, are just as compelling. Suzu gets scenes walking to school and spending the day there before returning, which show lots going on around her socially whilst emphasising her isolation from it all.
Then, there's the ladies choir with whom Suzu sings, although a lot of the time she doesn't so much sing with them as hide out of the way under the table. These ladies function like a sort of adult chorus who help her out at key plot moments by, for example, driving her to the train station.
Hosoda achieves wonderful moments of invention, such as the conversation between Suzu and Shinobu from his point of view with cars and other road vehicles passing between them momentarily obscuring their sight of each other. Again, the static viewpoint of such scenes provides a striking contrast with the constantly roving, airborne camera inside the world of 'U'.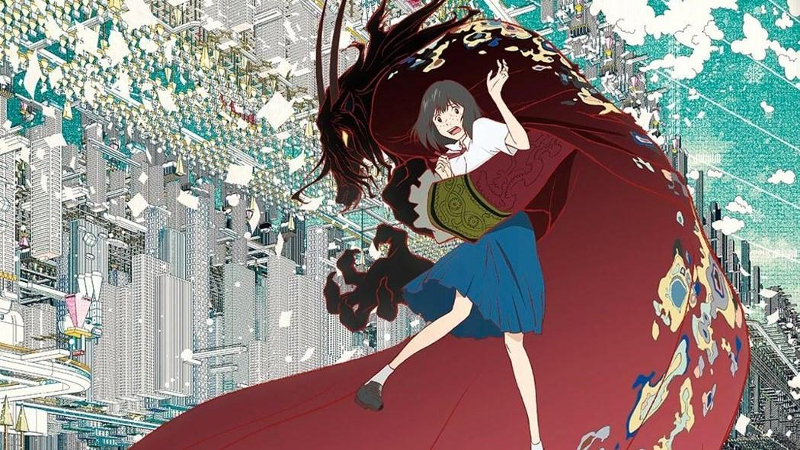 As the narrative moves towards its conclusion and Suzu and others attempt to find out the true identity and whereabouts of the Beast, a tragic scenario unfolds involving two teenage brothers and their violent, abusive father. For these boys, the chance to start over anew in 'U' is the only escape from a grim reality they have.
The film received a standing ovation when it was shown at Cannes, and deservedly so. Another entry in Hosoda's catalogue of stories about alternative worlds and time travel including The Boy And The Beast (2015) and that other Cannes favourite Mirai (2018), it fulfils in particular the promise of his earlier real world / digital world fantasy Summer Wars (2009). A treat, and perhaps more than any other Hosoda movie, one that requires multiple viewings to truly absorb.
Belle is out on Blu-ray and DVD from Monday, June 27th and 4K UHD Blu-ray including the soundtrack from Thursday, July 7th.
This review is of the Japanese subtitled version.
Trailer:
2022
Anime season April / May 2022 at BFI Southbank (digital IMAX version).
UK Cinema release: Friday, February 4th (subtitled and dubbed versions)
2021
Cannes Film Festival: Thursday, July 15th (World Premiere).
BFI London Film Festival 2021: Thursday, October 7th (UK premiere).
Scotland Loves Anime: Edinburgh Filmhouse, Saturday, October 16th (Scottish premiere).