Directors – Molly Gordon, Nick Lieberman – 2023 – US – Cert. 12a – 92m
****
The teachers and students at a theatre camp rehearse their annual Summer show, their unscrupulous, with the camp's founder unconscious in hospital, while the nearby, upmarket, rival camp attempts to close them down and possess their land – faux documentary comedy is out in UK cinemas on Friday, August 25th
@searchlightuk #TheaterCampMovie
As the spelling on its title might indicate, there's something very American about the concept of a theater camp, a variant of Summer camp for wannabe child actors and theatre people; to the best of my knowledge (and I'm not an actor or a theatre person) there isn't really a UK equivalent. That said, even those without a strong interest in theatre are likely to have a good time with this winsome comedy. Not only has this been put together with a great deal of love and heart by actors who went through the theater camp experience as kids and have it in their DNA, it's also very cleverly scripted in outline and makes great use of improvisation in the performances of the part-adult, part-child cast.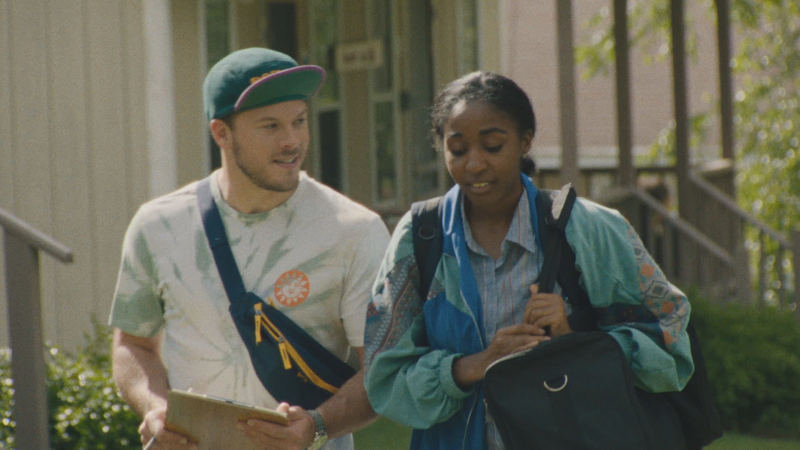 Theatre camp (I refuse to use the American spelling from here on) Adirond ACTS, four hours from New York, suffers a heavy blow when its beloved founder Joan Rubinsky (Amy Sedaris) suffers a heart attack whilst watching the performance of one of her students on stage, goes into a coma and is hospitalised, leaving the day to day running of the camp to social media business guru son Troy (Jimmy Tatro), who is completely clueless when it comes to theatre and fails to connect with the young students from the get go.
Nevertheless, the camp's enthusiastic staff led by Amos Klobuchar (co-writer Ben Platt) and Rebecca-Diane (co-writer / co-director Molly Gordon) rally round, announcing this year's five productions, including this year's original play Joan, Still, a musical based on Joan's life. The group excitement is palpable as students audition, the plays are cast, and everyone attempts to get the shows together with the narrative here focussing on the production of Joan, Still.
While all this is going on, rival camp rep Caroline Krauss (Patti Harrison) attempts to negotiate a deal with Troy, with the pair finding they have a great deal in common (for instance, admiring some of the same entrepreneurs). Troy has his own ideas about running the camp, firing several members of the staff to cut costs and replacing their jobs with one person: mendacious, sole applicant Janet Walch (Eyo Edebiri). When the deal with the rival camp goes sour, it looks as if the bank will foreclose. Under such circumstances, can a triumphant production of Joan, Still persuade Troy's social media influencer friends to financially back the camp and save the day?
Although clearly a construct, all this is shot as if it were a documentary, an approach wide open to exploit improvisation, which goes some way to explaining just why it works as well as it does. To boot, it even has some original, stage musical numbers you'll be glad to have heard. And it's very funny. Some of the jokes are in the trailer – but by no means all or even most of them. A great deal of the humour seems to spring directly out of both the writing and characterisation as well as the subsequent improvisation process.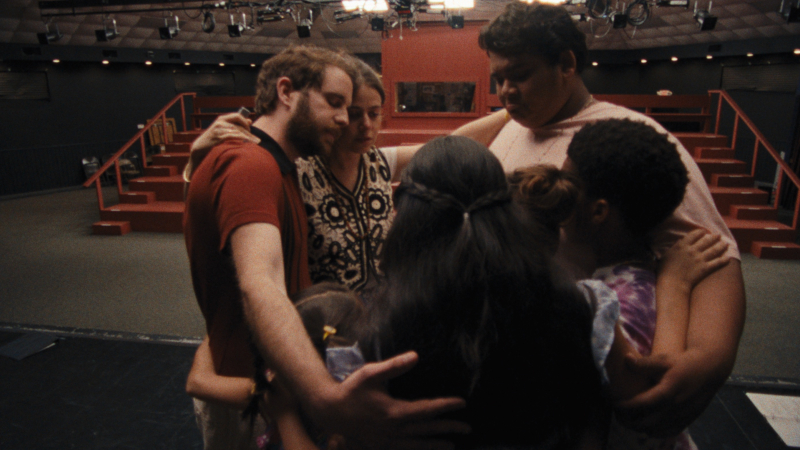 It's noteworthy that this began life as an 18-minute short of the same name (2020) directed by Nick Lieberman and with the same writing team and a handful of the same adult cast (although none of the same kids, not least because a four-year age difference would be visible on the screen in kids).
Although the film is ostensibly about both adults and kids, most of the writing appears to have been focussed on the former, with additional camp staff characters including stage manager and general fixer and dogsbody Glenn Winthrop (co-writer Noah Galvin), who comes to take a significant role as the narrative progresses, plus costume design tutor Gigi Charbonnier (Owen Thiele) and dance tutor Clive DeWitt (Nathan Lee Graham) who don't.
But if the kids have been less written and more improvised, they certainly hold their own on the screen. My favourite was Alan Park (Alan Kim, the kid from Minari) who steals the film with his turn as a wannabe agent who wears a suit, has his own office in the camp and is constantly on the telephone, but all the kids here are terrific, and I have this sneaking suspicion that if you return to look at the cast list in 20 years time, most if not all of them will have had significant careers on the screen.
I must admit, I wasn't sure abut this one going in. It doesn't look like a film for introverts, and its subject matter is completely outside my personal experience. (And, I suspect, that of most Brits.) Nevertheless, it swiftly won me round with the clear love of its filmmakers for their subject, some great casting and improv work, strong songs and, scattered throughout, a satisfying amount of genuinely funny, character-driven humour.
Theater Camp is out in cinemas in the UK on Friday, August 25th.
@searchlightuk #TheaterCampMovie
Trailer: