Director – Lola Quivoron – 2022 – France – Cert. tbc – 105m
***
Le Fast et la Furieuse. A young woman bike thief makes her mark on a group of bikers living in a bike repair shop run from a prison by its incarcerated owner – plays in the BFI London Film Festival 2022 which runs from Wednesday, October 5th to Sunday, October 16th in cinemas and on BFI Player
Julia (Julie Ledru) loves motorbikes. She loves riding them. And she loves stealing them. At various points in the narrative, she follows up 'bike for sale' ads, goes to see the seller, impresses them with her considerable knowledge, persuades them to let her test drive the bike by riding it alone for a certain distance then rides off with it. She's also poor and living on a rundown housing estate, an environment beloved of a certain strata of French cinema (e.g. Two Of Three Things I Know About Her, Jean-Luc Godard, 1967, La Haine, Mathieu Kassovitz, 1995; District 13, Pierre Morel, 2004). Not that you see much of this environment after the opening reel. She represents a very French form of anti-hero, and if you don't have any problem with her sense of entitlement and the fact that she sees nothing wrong with stealing, this is a rollicking good yarn. (Sadly, I have problems with the film on both counts.)
Having stolen her latest bike, she attends a gathering on a stretch of rural motorway, persuading one of the to give her some petrol and taking more than he say she can have, where various riders show off their skills at riding with the front wheel in the air. She can ride but not do the stunts and is given a hard time for this until one of them, Abra (Dave Nsaman), takes her under his wing and teaches her a few techniques to get her started. But riding like this is dangerous and, shortly after talking to her, he's injured and hospitalised in an accident.
Hanging out with the bikers, she discovers that they operate out of and live in a bike repair shop run by Domino, who currently runs the whole show from prison. We never meet Domino, with who she communicates via an intermediary and earns a place to stay in the repair shop in exchange for stealing bikes. Eventually, she persuades him to let her do a big job, robbing a lorry that carries a whole cargo of bikes.
Domino's girlfriend Ophélie (Antonia Buresi) helps and advises her in all this, giving her a makeover. In contrast to Julia's new found freedom living in the repair shop, Ophélie and her son Kylian (Cody Schroeder) via Domino are under the thumb of the controlling although incarcerated Domino, and rarely leave the house. Julia helps her out by buying the hair care product Domino has been forgetting to buy her for months, then takes mother and son on an enthralling day out. When Domino hears of this, Ophélie is forced to end her friendship with Julia.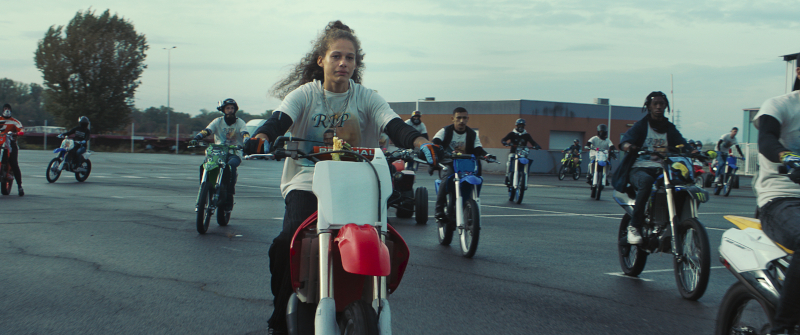 Also in the mix, someone in the gang has got it in for Julia and one night she is attacked and beaten by a mysterious masked figure.
There are impressive scenes of bikers here – attending the gathering and performing astonishing stunts, a sequence which verges of the documentary… a massed riding through the streets in memory of Abra, after he dies in hospital… and the various, genuinely thrilling bike theft episodes, culminating in the theft of several bikes from the moving lorry. There's more than a touch of The Fast And The Furious (Rob Cohen, 2001) about all this, although the male characters, apart from Abra who appears early on then vanishes from the film, are generally poorly delineated by script and direction so that it becomes difficult to follow who's who.
A curious night time road sequence in the final reel has the heroine die and briefly transform into a ghost.
It may be flawed and a bit all over the place, but the female characters anchor the film while the stunt and action sequences are striking.
Rodeo plays in the BFI London Film Festival 2022 which runs from Wednesday, October 5th to Sunday, October 16th in cinemas and on BFI Player.
Trailer:
LFF 2022 Trailer: