Director – Parker Finn – 2022 – US – Cert. 18 – 115m
***
After a psychiatrist witness a patient smile then commits suicide, she finds herself stalked by a malevolently smiling presence – out in UK cinemas on Wednesday, September 28th
A patient describes her condition to Psychiatrist Dr. Rose Cotter (Sosie Bacon) who then witnesses her apparently see something which drives her to suicide, smiling malevolently as she slices half of her own face off. The patient has previously described an entity which appears as people, sometimes people she knows, sometimes strangers. She can see it but no-one else can. And it's always smiling at her. And now Rose can see this entity smiling at her, which suggests she's next. Especially when it starts chanting, "you're going to die" over and over again. (Spoiler alert: you're going to die. We all are, sooner or later. So this really isn't such surprising news.)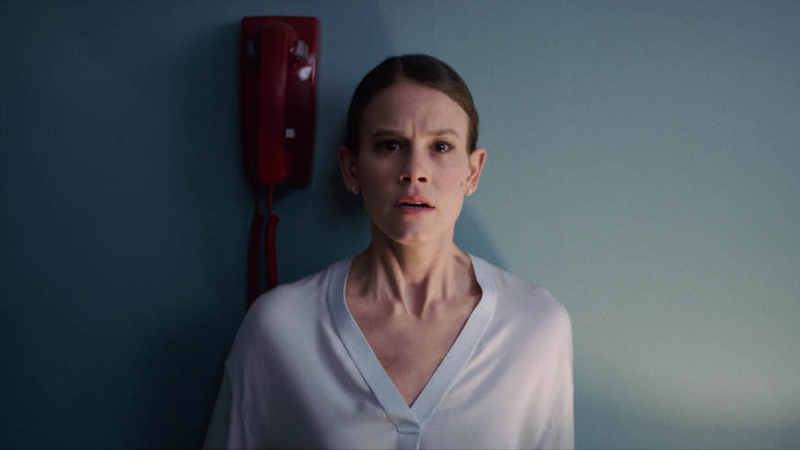 Just as she herself had done to her patient, those to whom Rose attempts to explain her plight come up with psychological explanations – childhood trauma, her genes, she's been under a lot of stress lately and so on. There's a certain daft pleasure to be had in such films that no-one ever takes the obvious explanation (here, that this woman is being stalked by a malevolent entity) seriously. As her behaviour becomes increasingly erratic and disturbing, so Rose alienates her sister Holly (Gillian Zinser) and brother-in-law Greg (Nick Arapoglou) and her own partner Trevor (Jessie T. Usher).
She gets her ex-partner Joel (Kyle Gallner) who is also a cop to investigate cases similar to her own. He discerns certain patterns: most of the people who described her current experiences were dead within a week, with the exception of one: she resolves to find out what was different about him, why he survived when no-one else did.
The films follow the basic idea of Ring (Hideo Nakata, 1998) i.e. there's a curse which causes you to die horribly in a week unless you do whatever it is you have to do to break that curse. We won't reveal what that might be, except to say that if you've seen Ring, the way to break the curse here is remarkably similar (although this new film provides quite a clever twist on that.) As in Ring, the monster here is a virus which passes from one victim to the next.
Rose voices the idea of the curse at one point. Actress Sosie Bacon really gives the performance her all, piling on shock facial takes, running her hands around her face, sand so on, which is fun to watch. There are a few jump scares to make you jump right out of your seat. And there are some fabulous shots (second unit?) of such activities as a car driving along a country road where the shot turns completely upside down, which provide generally unsettling pieces of mood setting.
Given the template of Ring, the whole is fairly predictable stuff if satisfyingly realised. It does what it says on the tin and works well enough as a horror movie or scarefest. As such, it should satisfy most horror fans. But beyond meeting such generic demands, there's not that much here. Enjoyable, yes; radical no.
Smile is out in cinemas in the UK on Wednesday, September 28th.
Trailer: