Director – Edward Lovelace – 2022 – UK – Cert. PG – 91m
**** 1/2
A family leave Iraq for the UK where their deaf son can receive education appropriate to his needs, only to find themselves falling foul of the UK's anti-immigration policies – out in UK and Irish cinemas on Friday, July 7th, with previews in Refugee Week – Monday, June 19th to Sunday, June 25th
As a Saturn V space rocket rises into the atmosphere, we hear a voice struggling to complete a word (and read it in the accompanying subtitles, which is at once weird, because this is a documentary film and in real life, you don't get subtitles, and helpful, because without them most viewers, that is to say those viewers with fully functioning hearing capability, would have no idea as to what is going on. First come the letters… S… P… E… Then, slowly, the single words. SPECIAL. PLACE. NEED. NEED. "I think my brother was born in the wrong place," comments Lawand's older brother Rawa.
The soundtrack's conversation by the hearing-abled moves on to skim over the story of how and why Lawand's family came to the city of Derby in England, something it doesn't cover at any great depth, instead showing us images from somewhere inside a car of travelling across Europe, then images familiar to any English person of moving past telegraph wires atop green fields seen from a train window. It's not clear, for instance, how his parents came to know about and how Lawand came to enrol in the Royal School For The Deaf Derby (RSDD), although judging by what follows, it would seem to be the best school in which he could possibly enrol. The reason he's never learned to speak is that is completely deaf, and thus has no way to pick up the skill of using conventional, spoken language. He must be aged about seven when he stars there and is allocated the specialist teacher Lucy. He is heard forming the letters of a word… W… H… Y…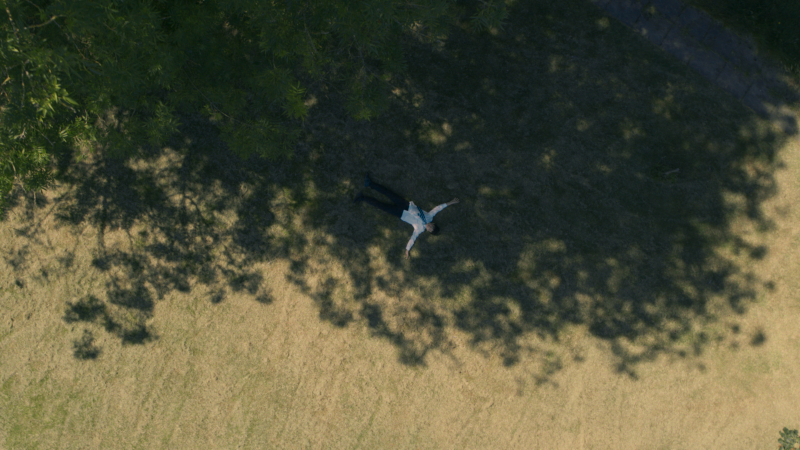 What follows in this extraordinary documentary is divided by a series of numbered headings. In the first, Choice, the RSDD's teachers warn his parents of the possibility that Lawand may never speak. They talk about his history beforehand in Iraq… He was non-communicative… He was different from the other kids and consequently bullied. As his dad quite understandably puts it, he just wanted a place where his son could be safe. Nevertheless, the boy is put into a class at RSDD and starts to learn British Sign Language (BSL). As he progresses, and as he is given the choice, it becomes clear that he is much more comfortable communicating in BSL than he would be with speech.
In the second, entitled Same As You, he develops further under the guidance of his teacher Sophie, aka Miss Stone. In the third, Survivor, she is teaching him how to use a drum kit employing an inflated balloon to feel the vibrations. The headings run to seven in all. As the narrative progresses, we see Lawand become increasingly proficient in BSL to the point where this formerly inarticulate boy can communicate clearly using it, acquiring a personal freedom unimaginable for someone in his poisition in Iraq.
Other elements become evident alongside Lawand's development. The RSDD teachers think he's a bright kid and is doing really well. His brother Rawa, in an attempt to get to know his sibling better, attempts to learn BSL himself, but finds it a struggle. His parents would prefer it if Lawand would speak with his voice, but that looks unlikely to happen.
Such parochial concerns play out against the larger political backdrop of racist, right wing immigration policies, with Lawand and family threatened with deportation by the authorities in the form of the Home Office despite the fact that this would rob the boy of everything he's learned at RSDD and many of his basic freedoms.
In the same way that the details of the journey of Lawand's family from Iraq to Derby are glossed over, so too is the exact time frame in which all this takes place – it must encompass a period of several years, but none of the dates are explicitly stated. There are no obvious recent historical markers such as the 2016 EU referendum or the 2020 pandemic lockdown; we do however witness Lawand's excitement at attending the march in support of the BSL Act, which was designed to recognise BSL as a first language and which subsequently passed into law in 2022, so presumably the pandemic years are also part of this subject but simply omitted.
Especially composed, ambient, immersive music underscores Lawand's initial isolation within himself and his gradual coming out of his shell to communicate with the world.
The threat of everything in his life for which both Lawand and the RSDD have worked so hard being taken away grows palpably alongside the British authorities' plans to deport the family back to Iraq, something which isn't going to happen without a fight since both his family and the RSDD have no intention of letting the Home Office get their way. This story of one specific family caught up in the machinations of UK immigration policy show just how inhuman these draconian policies are and how awful the potential human cost can be.
Overall, the film is a remarkable testament to the power of education with regard to people with less common health conditions who are all too often labelled 'inferior', 'disabled' or 'useless' when, in fact, with the right approach, they can be helped to lead highly satisfying lives. And, at the same time, an indictment of the UK's current protectionist and racist immigration policy which regards people all too easily as 'other' and hopes to send them back from whence they came, regardless of the consequences.
A challenging and provocative piece of work, well worth 82 minutes of your time.
Name Me Lawand is out in UK and Irish cinemas on Friday, July 7th, with previews in Refugee Week – Monday, June 19th to Sunday, June 25th.
[Read my alternative review for Reform magazine]
Trailer: