Director – Jean-Paul Salomé – 2022 – France – Cert. 15 – 121m
***1/2
After a smart and tough-talking woman union rep in the nuclear power industry is attacked, tied up and raped in her own home, the police suggest she may have staged the attack herself – out in UK cinemas on Friday, June 30th
Or, as its opening title states in the English subtitled print shown to press, La Syndicaliste Based On A True Story. That title comes after an opening in 2012 in which police are called to the home of Maureen Kearney (Isabelle Huppert) where her cleaning lady has freed her from a chair to which she was tied before being raped by an intruder. The forensic team are all over the premises, taking away evidence. At the police station, she requests a pad and pencil to write down the details of what happened. The police will later accuse Kearney of fabricating the whole incident herself.
The next half an hour or so is a flashback leading up to the incident. Immediately after the titles, it sets about establishing its heroine as a tireless campaigner for employee rights at French state-owner nuclear power company Areva, standing up for ruthlessly exploited workers in an Hungarian subsidiary and well in with Anne Lauvergeon (Marina Fois), the one female executive in an otherwise male boardroom who despite her reliability and excellent track record is being forced out, with as she later tells Maureen lots of dirty tricks used against her.
Anne is replaced by the spineless Luc Oursel (Yvan Attal) who goes against everything she stood for and signs the company up for a deal with the Chinese which will eventually involve mass redundancy and Areva being sold off to corporate giant EDF (Électricité de France). He has anger management issues and at one point hurls a chair at Maureen in a board meeting.
There is thus a conspiracy going on in the background, involving various, other, largely glossed over, male corporate players and government ministers, and beyond that broad outline it's pretty confusing. As well as keeping in touch with Lauvergeon, Maureen also has serial meetings with Tirésias (Christian Hecq), a mole from EDF who leaks information and documents to her. The corporate world is not so much presented as it is suggested to be a bastion of corrupt male privilege where anything goes as long as it keeps the company profitable.
Meanwhile, the police investigation under Adjudant-Chef Brémont (Pierre Deladonchamps) does their best to discredit her because, in his opinion, she didn't behave as a rape victim should. They build a case around her staging the incident herself, with no attacker, moving her role in the incident from victim to suspect.
The final reel goes the courtroom drama route, with Maureen trying to clear her name and prove the incident happened as she described it. However, there's nothing here to match the intensity of the courtroom element of that other recent French drama Saint Omer (Alice Diop, 2022).
Director Salomé was apparently inspired to make the film after reading the book of the same name by investigative journalist Caroline Michel-Aguirre and has, perhaps inevitably, left much out. He also wanted to work again with iconic actress Huppert, who previously appeared in his Mama Weed (2020) as a police translator who gets involved in the drugs business. Her portrayal of Kearney is fine so far as it goes – as a corporate type, you wouldn't want to mess with this woman and in terms of the alleged rape, Huppert keeps you guessing as to whether or not she faked it for quite a while. It's bizarre casting, though – the real life Maureen Kearney, as you might guess from the name, was Irish by birth and there's not a trace of that here.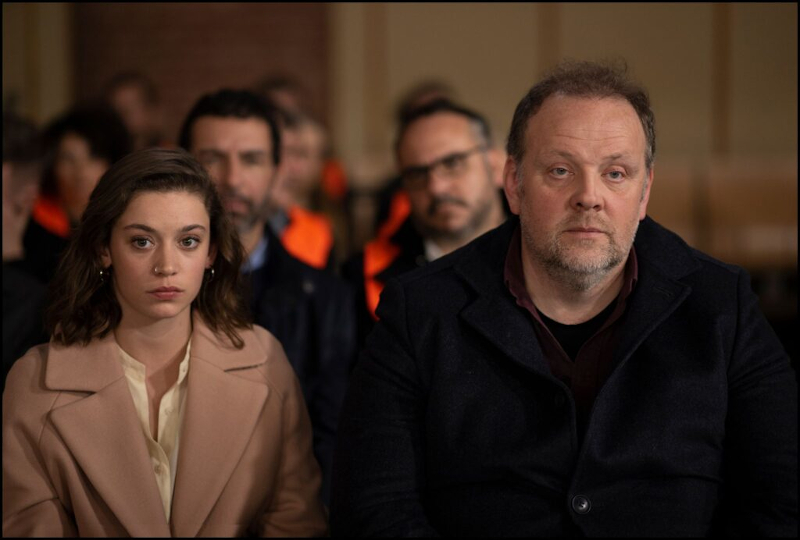 The film is, however, highly effective in portraying Kearney as part of a couple, with Grégory Gadebois convincing as the husband who supports her every step of the way, even if there are moments when he suspects she may have made the whole thing up.
Some quite effective conspiracy theory / woman threatened scenes include various cars following or driving beside Kearney's at night, with one of them breaking a window to snatch documents from the back seat.
Overall, though, this desperately wants to be at once a gripping political thriller in the vein of Klute and All The President's Men (Alan J. Pakula, 1971 and 1976), a courtroom drama and a portrait of a determined woman confronted with institutionalised male violence. In all these areas, it feels for the most part distinctly average.
Given that it opens with a woman having apparently been raped in her own home, the piece is clearly about testimony and memory, truthtelling and falsehood, and for a standard against which to measure it, look no further than Rashomon (Akira Kurosawa, 1950) which brilliantly and compellingly presents a rape incident from four conflicting flashback narratives. Admittedly La Syndicaliste is only dealing with two potentially conflicting flashbacks, those of the alleged victim and the investigating police, never showing us the third perspective of the real or imagined rapist attacker, but it pales beside Kurosawa's groundbreaking work.
Isabelle Huppert completists, among who I number myself, will want to see this. She has, however, made far better movies, and it will soon fade from the memory. The real life person, incident and narrative on which it is based deserve better than the film as here realised.
La Syndicaliste is out in cinemas in the UK on Friday, June 30th.
Trailer: