Director – Neill Blomkamp – 2023 – US – Cert. 12a – 135m
*** ½
#GranTurismoMovie
You can with a Nissan. A Welsh, gaming obsessive is recruited by a PR executive from Japanese car manufacturer Nissan to train as a professional Grand Prix driver – out in UK cinemas on Friday, August 11th
Cardiff rail worker's son Jann Mardenborough (Archie Madekwe) is a gaming obsessive, specifically the Gran Turismo videogame – or as he likes to describe it, racing simulator. He spends a lot of money on getting his gaming set up just right, and a lot of time either tweaking his virtual car for performance or logging hours practising his driving on the virtual set up. So real is the virtual driving experience to Jann that as he sits at the wheel, a diagrammatic drawing of his car builds itself out of thin air around him as he drives.
Alas, his father Steve (Djimon Hounsou), so supportive of Jann's footballing brother Coby (Daniel Puig), thinks Jann needs to take stock and think about his future rather than pursuing his impossible dream of becoming a professional racer. However, his mother (Geri Halliwell Horner, former spice girl Ginger Spice and today the real life wife of Red Bull Formula One team principal Christian Horner) is far more supportive.
Meanwhile, elsewhere in the UK, Nissan marketing man Danny Moore (Orlando Bloom) comes up with an improbable scheme to sell the company's cars to the current generation obsessed with playing motor racing videogames. His plan is to get the company involved in the highly competitive world of Grand Prix motor racing with its own team by recruiting from among the ranks of dedicated GT gamers and he pitches it to his corporate bosses in Japan. He is enthusiastically surprised when they accept his pitch, and sets about turning it into reality.
His first job is to find a trainer capable of taking GT game recruits and moulding them into professional racers in the real world. After being rejected by most of the names on his list of candidates, he gets Jack Salter (David Harbour) to sign on. Jack is a former professional racer whose promising career was cut short by a tragic accident in which another driver was killed, causing Jack to walk away from his racing career. Jack is determined to make Moore's idea work. They set up a competition to attract the brightest and best GT video game players to a GT training school based at Silverstone racetrack, the home of British auto-racing. Alerted to the competition by his best mate, Jann enters (despite his dad trying to make him work a rail yard shift on the morning it is scheduled to take place) and gets the best score.
On Moore's programme under Salter, Jann faces a series of challenges if he's to become a real life, professional racing driver as only one of the dozen or so trainees will go on to be the face to represent Nissan at the track. If he wins, he will then have to be good enough to earn his professional racing driver's qualification. This will eventually include the Le Mans 24 hour race, in which he and other drivers will drive for three-hour, relay shifts. But can he pull it off?
The film is based on a true story.
To break up the motor racing narrative, Jann is also pursuing a local Cardiff girl Audrey (Maeve Courtier-Lilley) who in the course of the story becomes his girlfriend. And Kazunori Yamauchi (Takehiro Hira), the former racing driver who designed the Gran Turismo games as a racing simulator and is idolised by Jann, also puts in an appearance.
The opening quarter of an hour, set largely in Cardiff as Jann struggles with the pull of his dream and the antagonism of his father, is genuinely gripping, and so too is the dramatic element of all the off-track competitiveness with Jann's rival candidates. The race scenes of Jann playing his GT console are thrilling, but somehow, there's a long chunk of the racing element of the training which feels less involving.
Although the production not only used real cars but also had access to and made good use of such internationally renowned racing circuits as the Slovakia Ring in Slovakia, the Dubai Autodrome, the Nurburgring, the Red Bull Ring in Austria and the Hungaroring, the latter standing in for both the GT Academy and Le Mans, there's something about these sequences that fails to involved. Seemingly endless aerial shots race along through the air (presumably courtesy of drones) suddenly place you not, as one might expect, in the same direction as the pack of racing drivers, which would work really well on the screen, but instead in the opposite direction to it, meaning that the viewer finds her- or himself travelling not in the same direction as the cars, but in the opposite direction, which doesn't work at all.
Perversely, once the narrative starts hitting car crashes, which are extremely well done, the film improves greatly and subsequently maintains momentum to the end. Particularly effective is the accident in which Jann's car is coming over the peak of a hump in the road, lifts off it and completely flips over through no fault of the diver, a freak accident which could happen to anyone, not unlike the one that caused Jack Salter to quit the sport years ago.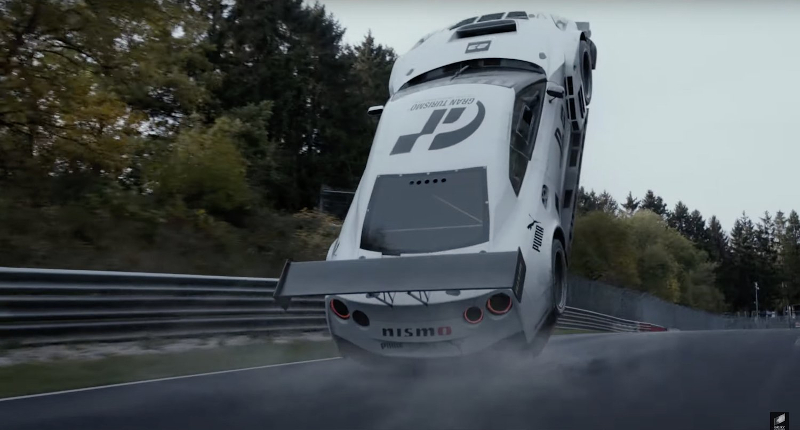 The effects-laden material where gaming turns into racing, and vice versa, is also well done and highly effective.
The script is good and so are the performances of the three leads. The love interest subplot is nicely handled – not too much material to get in the way of the main story, but just enough to provide a few, much-needed, brief, refreshing breaks from everything else. If the motor racing action drags a little in much of the first hour, the accompanying drama and the car crashes once they start piling up (no pun intended) more than compensate. Gran Turismo may be a flawed work, but as a Summer, popcorn racing movie, it'll do nicely.
Gran Turismo is out in cinemas in the UK on Friday, August 11th.
#GranTurismoMovie
Trailer: