Director – Hassan Nazer – 2022 – UK/Iran – Cert. PG – 85m
****
A missing Oscar statuette is found by two kids in the Iranian provinces who work scavenging rubbish dumps – the UK's official entry for the 95th (2023) Academy Awards Best International Feature is out in UK cinemas on Friday, March 17th #winnersfilm
An Oscar statuette goes missing in Tehran when the woman charged with bring it to the production company office somewhat foolishly leaves it in the back of a taxi while she nips out at her home to collect something. While she is out of the vehicle, a policeman instructs the driver to move on as he isn't allowed to stop there. She comes back and the taxi is gone – and the statuette with it.
It ends up in the taxi company's lost parcel office, where an employee who has no idea what it is decides to borrow it for the evening as it will look good in his home, wrapping it in a towel before placing it in his bag. Travelling through the small town of Garmsar on his motorbike, he is forced by a broken down car blocking the road to take a detour across bumpy, poorly-maintained roads which, in turn, cause the poorly packed statuette to fall off his bike where it is found by a girl, Leila (Helia Mohammad Khani), who hands it to her nine-year old friend Yahya (Parsa Maghami). But later, she takes it back to cover its body up, since otherwise its male private parts are on full display.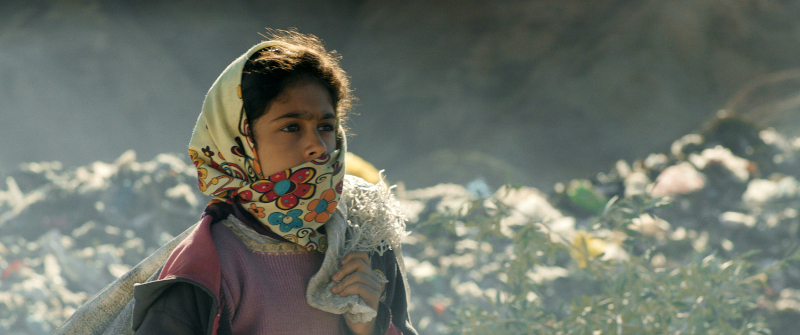 As it happens, Yayha is something of a movie buff, although, like the hapless taxi company employee, neither he nor the girl have any idea as to what the statuette is. Constantly being told off for watching DVDs in the middle of the night by his long-suffering grandmother, he is obsessed with seeing Cinema Paradiso (Giuseppe Tornatore, 1988) which his grown-up friend Saber (Hossein Abedini), who owns some 1 500 DVDs and provides the source of the young lad's viewing material, has promised to lend him.
Yahya and other local kids earn meagre amounts of money rummaging through the local rubbish tip for items of value for the middle-aged Naser Khan (Mohammad Amir Naji, Berlin Silver Bear winner for The Song Of Sparrows, Majid Majidi, 2008), and a minor row breaks out between Yahya and the other kids when they mistakenly think the former found the statuette there.
When Saber's back is turned, Yahya is in the habit of nicking as many DVDs as he can hold, and among his latest batch is The Song Of Sparrows. Watching it, he can't believe his eyes: its star is none other than his boss Naser Khan. It turns out the man ran into all manner of problems after winning the prize: acting wasn't paying him enough money to live, but everyone believed he was now making money hand over fist so started charging him more for everything until in desperation, he changed his name and moved to Garmsar incognito. Seeing the situation, Naser knows he has to get the boy to deliver the statue to its rightful owner, so boy, boss and Saber set out for Tehran in a truck…
Although this is in many ways a light and undemanding film, there's much here to admire. The narrative deftly follows not a character but the Oscar statuette as it gets lost and found by various characters before eventually coming into the possession of the young boy. Yahya and his gran are Afghan refugees, and although the film doesn't dwell on their identity, there's a sense in which the story here gives these marginalised people a voice – not to say anything in particular beyond the simple fact that they matter just as much as anybody else. Which is enough.
Then there's the fact that the children, in particular the two leads, give terrific performances on camera. The adult characters too, even the ones on screen for very few scenes, more than hold our attention. In addition, the fact that Silver Bear Winner Naji is so affecting in his role effectively playing himself – even at one point producing his Silver Bear statuette – adds considerably to the film's assets.
With its end quest in which Yahya must take action to resolve the plot, the whole thing reminded me of the Ealing classic Hue And Cry (Charles Crichton, screenplay T.E.B. Clarke, 1947) in which hordes of young children charge over bomb sites, not least because Garmser's rubbish tips pictured in the middle of the film look not all that different from post-war London bomb sites. And, in both films, the locations were real ones.
And, although it's ostensibly an Iranian movie, the director is a former Iranian refugee who is today a Scottish citizen, which means it's arguably a British movie, all of which might go some way to explaining the fact that it feels like an Ealing comedy. That said, Iran is perfectly capable of making not dissimilar comedies, as that other recent gem A Childless Village (Reza Jamali, 2022) shows.
The film also delivers moments of intense lyricism: witness the slowly rolling, overhead shot of the two kids lying on parallel train tracks, looking at the sky. There's something universal about that image, a momentary shot of pure cinema. And while no one is saying this is a children's film – although (provided your child can read and is happy to negotiate subtitles – and why should she or he not be?) that case wouldn't be a difficult one to argue – I rather suspect that children would have a good time watching it. Speaking as an adult, I certainly did.
Winners, the UK's official entry for the 95th (2023) Academy Awards Best International Feature, is out in cinemas in the UK on Friday, March 17th. #winnersfilm
UPCOMING EVENT SCREENINGS:
Friday, March 17th, 18:15, Curzon Bloomsbury, London, Q&A with director Hassan Nazer
Sunday, March 19th, 17:00, The Garden Cinema, London, Q&A with director Hassan Nazer
Saturday, March 25th, 10:30, Hebden Bridge Picture House, West Yorkshire, Q&A with producer Nadira Murray
Monday, April 10th, 18:00, Dundee Contemporary Arts, Scotland, Q&A with director Hassan Nazer and producer Nadira Murray
Thursday, April 20th, Las Port Righ, Portree, Scotland, Q&A with director Hassan Nazer and producer Nadira Murray
Trailer: