Director – Hur JIn-ho – 2001 – South Korea – Cert. 15 – 113m
*****
The romance between a sound engineer and a radio DJ from winter through spring to its falling apart in summer – from LKFF, the London Korean Film Festival 2023 which runs in cinemas from Thursday, November 2nd to Thursday, November 16th
Winter. Twentysomething sound recordist Sang-woo (Yoo Ji-tae) lives at home with his family including his grandmother, to whom he's completely devoted. He is hired by a radio station in a nearby town and finds himself working alongside DJ and talk radio host Eun-su (Lee Young-ae), travelling there in his van. They spend time in the local countryside recording sounds such as the wind across the tall grass and she invites him to her flat for the night. One thing almost leads to another, but woken by his trying to kiss her as she lies on a mattress on the floor after she let him use her bed, she tells him, let's wait until we know each other better.
They quickly become inseparable, with much walking together, holding and hugging, although she won't shout about it from the rooftops because, as she explains to him, if the radio station found out they were in a relationship, he'd get the sack. Nevertheless, he moves into her flat and for a while everything goes swimmingly. But then, her feelings for him start to cool…
This is an unsentimental view of love and romance which quite admirably avoids the pitfalls so often found in movies of this sort: it neither sentimentalises nor trivialises, instead content merely to observe. (Merely!!! – if it was as easy as that, most romantic films would do it… yet few do.)
In marked contrast to his later more 'professional' and 'polished', yet ultimately far less satisfying, A Normal Family (2023), Hur here deploys long, unbroken takes which allow his two leads to explore the dramatic situation as it unfolds in real time rather than cynically manipulating his audience.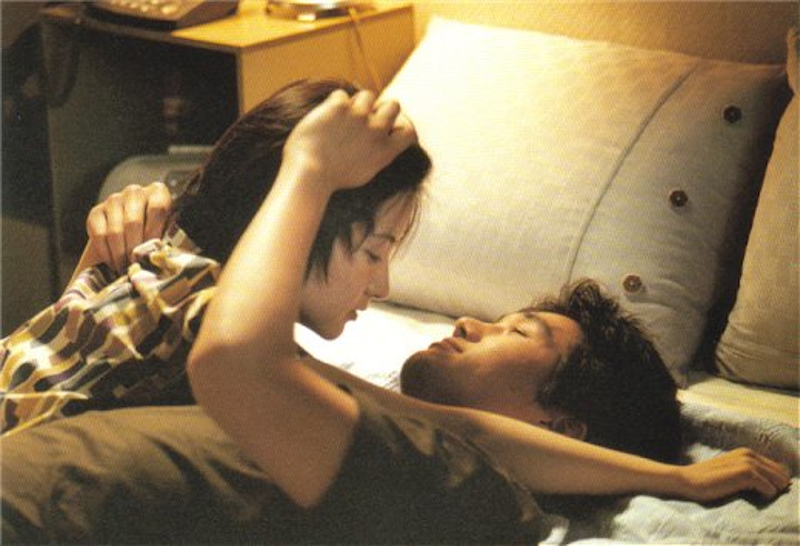 Their fling, which runs from winter through spring and falls apart in summer, is engaging both when it's good, which it is at first, and as it turns sour. It all feels very real, an accurate depiction of the way relationships can play out.
Eun-su's growing involvement with a music critic (Park Jun Seo) she meets at the radio station when he's a guest on her show is deftly handled, with just enough shown that we understand what's going on before the scene where Sang-woo spots her getting in to the critic's car.
Where Hur does occasionally employ movie trickery, it proves highly effective. A summer scene towards the end after Eun-su boards then gets off a bus to speak to Sang-woo and effectively, finally break up with him – after he's consistently failed to correctly read her behaviour and attitude toward him indicating that she's no longer interested – makes great use of narrow depth-of-field so that he is in focus in the foreground while she, maybe 10 or 15 feet away, is out of focus, a blur who, as he looks to the side rather than into the distance with the camera, is now out of his line of sight and no longer in his life.
We don't see that much of Eun-su outside of all this, but we see a great deal of Sang-woo in the context of his family, with his dad (Park In-hwan) asking about his girlfriend and intermittently offering advice on relationships. The family pressurise Sang-woo to get married, but he's not really interested; perhaps a sign of the gulf between the older and younger generations who view these matters very differently. He is particularly close to his grandma (Baek Sang-hui), and when she finally dies, he takes it hard. He's unable to even mention his gran's death to Eun-su, who in turn is unable to guess what has happened and makes something of a faux pass when she gives him a little potted plant to give to his gran. Perhaps these two young people weren't really suited to each other at all.
Early on, in her flat, Eun-su asks Sang-woo, "Would you like to eat Ramyeon?", a phrase which in due course entered Korean popular culture as a veiled way of asking, "Would you like to sleep with me?"
The sparseness of the long takes and the refusal to sugar-coat any of the proceedings renders the film all the more affecting. It makes for highly effective viewing both for those currently in a relationship and for all those who aren't. Highly recommended.
Also stars Kim Tae-jin, Eom Hyo-seop, Sin Sin-ae, Son Young-soon, Park Jun Seo,
One Fine Spring Dayplays in LKFF, the London Korean Film Festival 2023 which runs in cinemas from Thursday, November 2nd to Thursday, November 16th.
Trailer:
Trailer – A Normal Family: