Director – Mabel Cheung – 1987 – Hong Kong – Cert. 15 – 98m
****
A girl leaves her home in Hong Kong and flies to New York where her boyfriend has dumped her, so her cousin looks after her there instead – screening as part of Focus Hong Kong 2022 Chinese New Year on Tuesday, January 25th, 2022 8:15 pm, NFT2, info here
Young and innocent 23-year-old hopeful Jennifer (Cherie Chung from The Story Of Wu-Viet, Ann Hui, 1981; Wild Search, Ringo Lam, 1989; Once A Thief, John Woo, 1991, all co-starring as here with Chow Yun Fat) takes a one-way, 20 hour flight from Hong Kong to New York where she's enrolled in acting school, something for which she plans to get whatever work she can in order to pay her way. Her other – perhaps her main – reason for the journey is to be reunited with her boyfriend, but when she goes to meet Vincent (Danny Chan Bak-yeung) off the train, she sees he's with the more sophisticated Peggy (Cindy Ou / Wu Fu-sheng) and no longer interested in her, Jennifer.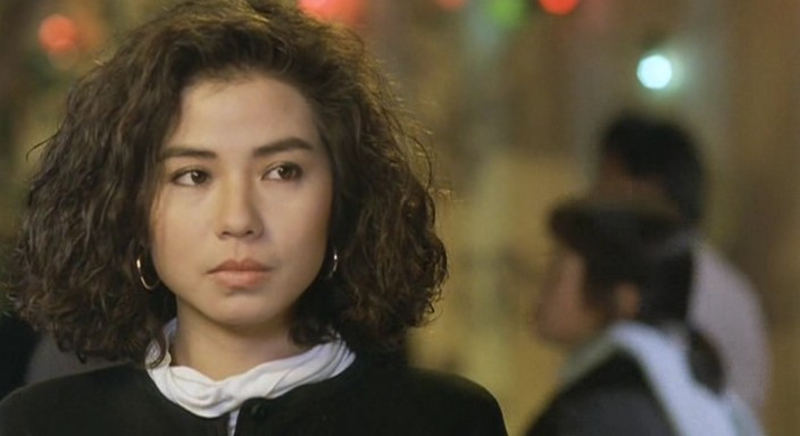 Meanwhile, looking out for her is her Big Apple streetwise cousin 'Figurehead' a.k.a. 'Figgy' a.k.a. Samuel Pang a.k.a. Sampan (Chow Yun Fat). He and his two diminutive friends Cow and Bull explain he's known as Figurehead because he's wooden and people walk right past him. They pick her up (late) from NY's Kennedy Airport in his falling apart car on which she has to hold the passenger door shut to stop it falling off. He charms his way in makeshift Japanese (!) past the security attendant when he parks outside the glass airport door where it's not allowed where she's sitting forlorn with her luggage. He fixes her up with a $300-a-month apartment immediately above him in the block where he lives. "If you need anything, just stamp on the floor", he says.
When her leaking kettle accidentally turns off the flame on her gas ring, Figgy goes to her rescue, calls the fire department and has the building evacuated. He helps her navigate the subway, he takes her out for walks, he turns up at the Chinese café where she's ordered a one-egg sandwich to get them both a slap-up meal on the house. When a cop has a run in with him believing Figgy a ticket tout, she comes to his rescue explaining the tickets are for him and her to see a show.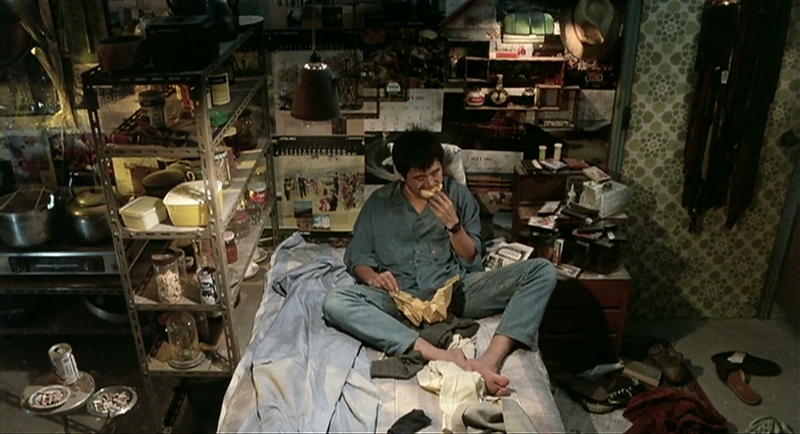 A further sub-plot involves Jenny getting work as a babysitter for a child Anna (Jeng Ming-suen) she adores only to get fired because mother Mrs. Sherwood (Gigi Wong Suk-yee) thinks her lecherous, restauranteur husband – for whom Jenny is also waitressing – is paying too much attention to her. (Jenny isn't interested in him and, in fact, finds his advances unwelcome.)
Things come to a head at Figgy's birthday bash in his flat when he leaves her partying with her many acting class friends to head off and join Cow and Bull at the local gambling den. At the same time, the duplicitous Vincent, now dumped by Peggy, turns on the charm in an attempt to win her back.
It's impossible to write about charm in the cinema without mentioning Chow Yun Fat. Whether playing cops or robbers in such John Woo-driected action movies as A Better Tomorrow (1986), The Killer (1989) or HardBoiled (1992) or in more romantic fare such as here, he simply oozes the stuff in a way few other actors do. Cary Grant, maybe? The scene, for instance, when he charms his way past the airport security guard with bravado is hard to imagine working as well in the hands of a different actor.
That said, carrying the proceedings falls on leading lady Cherie Chung who is more than adequate to the task. The film does what it sets out to do and delivers a solid and likeable romantic drama.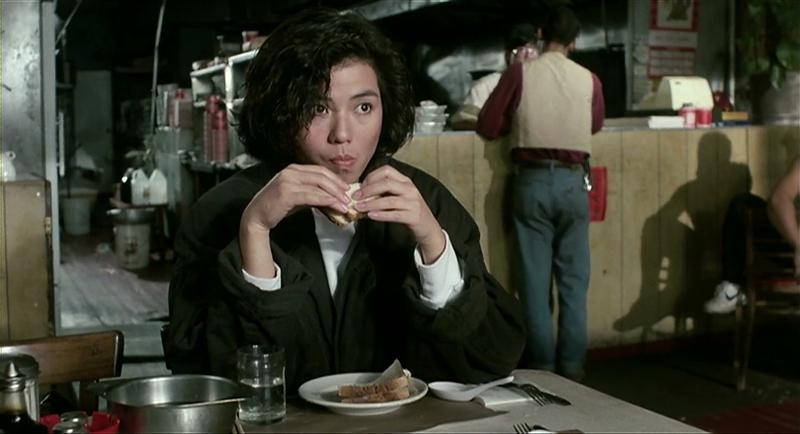 The Chinese have a history of making movies in New York (A Better Tomorrow II, John Woo, 1987; Lucky Grandma, Sassy Sealy, 2019) set amidst the Chinese community there. In this one, the leading lady goes to drama school where she mixes with a wide range of multicultural types, although we never see much of them art from as extras on her course or in the party scene. The narrative here sticks for the most part to Cantonese-speaking characters. Director Chung may well have had a hand in starting this trend in the 1980s. She made two other films set in New York or dealing with ex-pats returning from there to China (The Illegal Immigrant, 1985; Eight Taels Of Gold, 1989), so it was clearly an issue close to her heart.
An Autumn's Tale plays as part of Focus Hong Kong 2022 Chinese New Year on Tuesday, January 25th, 2022 8:15 pm, NFT2, info here.
Trailer (NB in Cantonese, however US English subtitles can be found in settings):