Director – Kenneth Branagh – 2023 – UK – Cert. 12a – 103m
**
Hercule Poirot's exposure of a fake medium at a séance in Venice turns into a trail of mayhem and murder in which he must unmask the killer – out in UK cinemas on Friday, September 15th
Kenneth Branagh's latest adaptation of an Agatha Christie Hercule Poirot story starts off well enough, with Poirot (Branagh) visited by old friend Ariadne Oliver (Tina Fey, who lights up the screen and is given or perhaps invents for herself all the best lines) who, like him, is convinced that all mediums who preside over séances are fakes. But the latest medium she has encountered appears to be genuine, which is to say that she's sure the medium a fake, but can't work out for the life of her how the medium is pulling it off. So she wants Poirot to accompany her to a séance, witness the medium first hand and work out how she's doing it.
She gets him into a party for orphaned children at a troubled building where a young woman named Alicia drowned some time ago. She was the daughter of the current occupant, retired opera singer Rowena Drake (Kelly Reilly). The party, which has various activities including an apple bobbing station, is followed by a séance conducted by Oliver's suspected fake medium Mrs Reynolds (a terrific Michelle Yeoh, who sadly doesn't remain in the film very long) who arrives in a mask and cape, which Poirot later dons to do some sleuthing, in the course of which activity an unidentified assailant tries to kill him by holding his head underwater in the apple bobbing bowl.
From here on in, the plot piles confusing incident on confusing incident, with a plethora of forgettable characters including the late daughter's fiancé Maxime (Kyle Allen) whom her mother disliked, and there are a number of murders in what follows, along with some scares which might be supernatural in nature, or might be fake supernatural trickery. The film largely fails to make use of the photogenic city of Venice by staying inside the building on the edge of which the drowning occurred, Every other shot appears to use an extreme wide angle lens to create a feeling of madness, a showy gimmick more irritating than it is effective.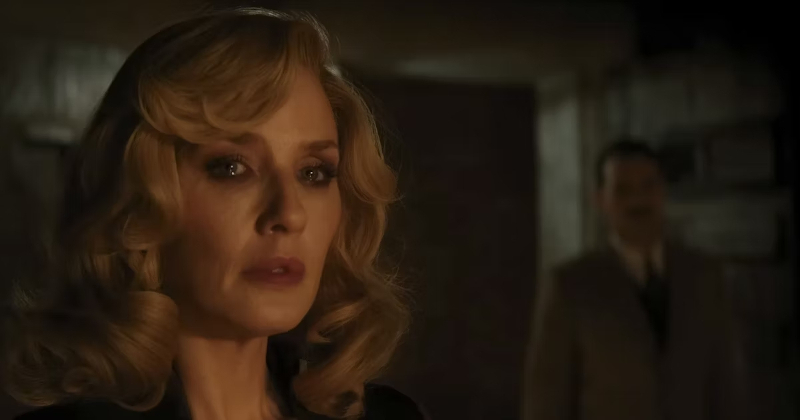 By the time Poirot eventually gets round to explaining the mystery of what's been going on in a seemingly interminable, convoluted speech, the flashy visuals and nonsensical plot will have taken you to a place where you will have long since ceased to care. Which is a shame, because the first 20 minutes, while never suggesting a masterpiece, at least held my attention and had me wanting more.
A Haunting In Venice is out in cinemas in the UK on Friday, September 15th.
Trailer: