Director – M. Night Shyamalan – 2021 – US – Cert. 15 – 108m
*****
A family is trapped on an idyllic beach where people age rapidly – out in cinemas on Friday, July 21st
This was adapted from the graphic novel Sandcastle written by Pierre Oscar Lévy and illustrated by Frederik Peeters which clearly has caught the imagination of M. Night Shyamalan (The Sixth Sense, 1999; Unbreakable, 2000; Glass, 2019).
Guy and Prisca Capa (Gael García Bernal from Rosewater, Jon Stewart, 2017; No, Pablo Larrain, 2012 and Vicky Krieps from Phantom Thread, Paul Thomas Anderson, 2017) and their kids Maddox, 11 (Alexa Swinton) and Trent, 6 (Nolan River) are driven to their tropical holiday resort which Prisca can't believe she found on the internet. Not that they are so lucky in their personal lives: she has been diagnosed with cancer and the couple have yet to tell their children of their impending divorce.
As they ponder what to do on their first day, the hotel offers them a chance to spend it at an exclusive beach alongside other select guests. These turn out to include surgeon Charles (Rufus Sewell from The Father, Florian Zeller, 2020) and his family – mother Agnes (Kathleen Chalfant), trophy wife Chrystal (Abbey Lee) and Kara, 6 (Kylie Begley) – as well as married couple Jarin (Ken Leung) and Patricia (Nikki Amuka-Bird).
Initially, the sheer beauty of the location takes their breath away, but the experience soon sours. Because the vanished female companion of another guest, rapper Mid-Sized Sedan (Aaron Pierre from The Underground Railroad, TV series, Barry Jenkins, 2021) turns up as a corpse. Worse is to come as not only is there no mobile signal, and it's impossible to leave the beach, but also the place causes each of them to age at such a rapid rate they may only have a day or two left to live.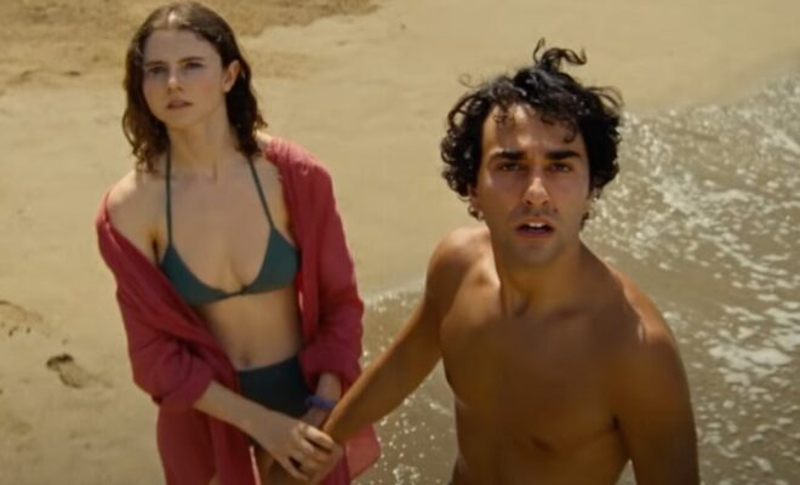 As the kids grow into adulthood, they are portrayed by older actors as follows: Maddox, 16 (Thomasin Mackenzie from Jojo Rabbit, Taika Waititi, 2019), and adult (Embeth Davidtz from Schindler's List, Steven Spielberg, 1993), Trent, 11 (Luca Faustino Rodriguez), 15 (Alex Wolff) and adult (Emun Elliot from Tell It To The Bees, Annabel Jankel, 2018; Prometheus, Ridley Scott, 2012) and Kara, 15 (Eliza Scanlen from Babyteeth, Shannon Murphy, 2019; Little Women, Greta Gerwig, 2019). Thanks in part to clever plotting – for instance the Capa kids go off to explore then come back later, having grown from 6 to 11 and 11 to 16. For the other adults subtle make-up prosthetics are used to deliver the illusion of the ageing process.
As the growing kids must deal with their maturing mental and physical states, so the adults must deal with their own deteriorating physical and / or mental health. All of them are forced to confront their own mortality and impending death. Kara becomes pregnant, losing the birthed child when the rapid passage of time means it is starved of love. Patricia suffers from epileptic fits. Prisca has to undergo the removal of a tumour from her stomach. Charles' increasing mental instability plunges him into paranoia, madness and violence against the others. Chrystal's calcium deficiency leads to increasing deformity.
Some of these elements allow for subtle visual interpretation. The dead baby turns into first bone wrapped in then dust pouring out of its shawl. Prisca's stomach op has hands holding back her (computer generated imagery) incision while the rapidly growing tumour is removed. Chrystal's burgeoning deformity as she crawls through a rock tunnel borders on the grotesque, a curious set of tropes in the final reel and a visual at odds with the rest of the film.
All the while, on the cliffs, the occasional figure appears to be watching them. The odd flash of reflected light suggests this watching may involve camera lenses. All is revealed in the film's coda, on the one hand a satisfying explanation and ending and on the other saddled with much more flabby exposition than most of what precedes it, which flaw could probably have been fixed at the script stage. Perhaps wisely, no explanation is attempted as to the conundrum of the rapid passage of time on the beach: the characters just accept it (or rail against it) and so do we.
This moves beyond mere spectacle as the characters grapple with what's important to them, touching on issues of time, ageing, life, love, family, bereavement, separation and togetherness. While the narrative passes through these in fairly rapid succession, it does allow the actors the opportunity to struggle with the existential aspects of the various physical, mental, social and emotional traumas they face.
Unconsciously or otherwise, and despite the lack of face masks worn by any of the characters, the fact that this concerns an isolated group of people who could comprise neighbouring households on the same street unable to leave a specific geographical location makes it resonate with recent experiences of pandemic lockdown which, like the rapid passage of time on the beach, is an unexpected and isolating experience or threat with which we must deal. The film would be powerful in its own right (it was actually shot during the pandemic) but this context definitely adds an extra layer.
The film echoes both the less-focused The Beach (Danny Boyle, 2000) and the slower, rather more existential The Red Turtle (Michaël Dudok De Wit, 2016). It's very much its own film, though. See it.
Old is out in cinemas in the UK on Friday, July 23rd.
Trailer: