Director – Louis Leterrier – 2023 – US – Cert. 12a – 141m
*1/2
In this latest entry in the Fast & Furious franchise, the son of a crime lord killed ten years ago sets out to exact his revenge on daredevil driver Dom Toretto and his family and associates – out in UK cinemas on Friday, May 12th
The tenth installment in the Fast & Furious franchise turns out to be the first part of a two-parter, with Fast X Part 2 now in preproduction. So don't be surprised when this ends on a cliffhanger (actually a couple of cliffhangers).
Ten years ago, in Rio de Janeiro, crime lord Hernan Reyes was pursuing along a lengthy bridge two cars which had physically ripped the vault containing all his monetary wealth out of the middle of his headquarters building before dragging it behind them, during which Dom Toretto (Vin Diesel) turned back to swing the vault on its chain to crush the crime lord to death in his car Hernan's son Dante (Jason Momoa) survived the incident, and has sworn to inflict suffering and death upon Dom and his family. This is the move (or at least the first of two) in which he gets to work that out.
In present day Rome, unreliable Roman (Tyrese Gibson) in a yellow Lamborgini leads more reliable Han (Sung Kang) in a less flashy but actually far more powerful souped-up car, along with Brit computer tech Ramsey (Nathalie Emmanuel) and Roman's comic, fellow black, regular comic partner Tej (Chris 'Ludacris' Bridges), on a CIA mission to steal the contents of an armoured van. Then a bloody Tess (Brie Larson) turns up at Dom's front door to reveal that Dante who has attacked and stolen her base and all the tech therein, meaning Dante can remotely control the van in Rome, which is not a CIA job at all but a trap. So, Dom and wife Letty (Michelle Rodriguez) leave their son Little Brian (Leo Abelo Perry) with Dom's sister Mia (Jordana Brewster) and head for Rome to save their friends.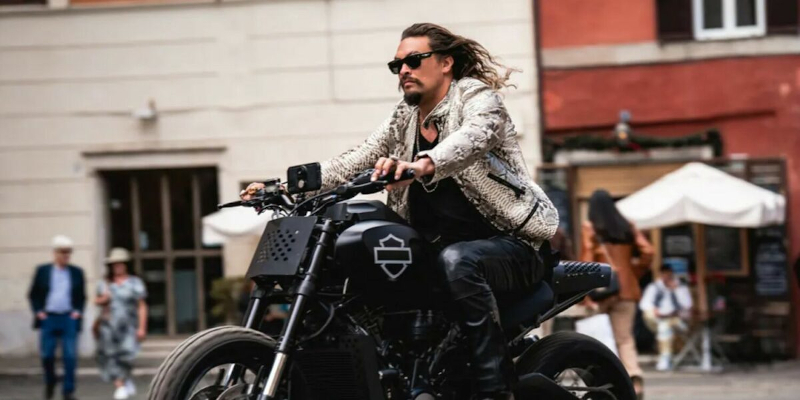 Ramsey and Tej, having boarded the van, find themselves locked inside it with someone else remotely driving them. And inside it is not what they had planned to steal, but a bomb. So now they are stuck in a remote controlled van containing a bomb. Later, the bomb breaks free and becomes a fireball pursuing Letty on her motorbike before finally hurtling towards the Vatican, leaving only Dom to stop it.
With Aimes (Alan Ritchson) taking over as head of the CIA, Dom and his friends are branded as the terrorists who tried to blow up the Vatican, and put on the Most Wanted list. When armed soldiers burst in to Dom's house and attempt to capture Mia and Little Brian , Dom's brother Jakob (John Cena), the villain from the previous film, comes to their rescue. Uncle and son set out on a long car journey to keep the boy safe. Meawhile, Letty is captured and placed in a secret maximum security location. Cipher (Charlize Theron) sets out to rescue her.
As you can probably tell from the above, this doesn't really explain who's who for the benefit of newcomers and doesn't particularly dwell on the family values that the previous entry Fast & Furious 9 (Justin Lin, 2021) layered onto Dom and his family and friends in spades. Dom is seen early on giving Little Brian a driving lesson, with Dom quipping somethng about "find the line" which you know is going to be paid off at some point later on, and sure enough, later on it's paid off. Rita Moreno also turns up for an early family gathering and meal in Dom's yard as the family matriarch, Abuela.
Indeed, this franchise has now reached a stage where major stars turn up either reprising their characters from older series entries or playing new ones. Jason Momoa has a great deal of fun playing the villain as over the top and unable to stop talking and goading Dom. As well as Theron, actors reprising characters include by Helen Mirren and Jason Statham. Overall, the piece washes over you and fails to engage, even by this franchise's low standards.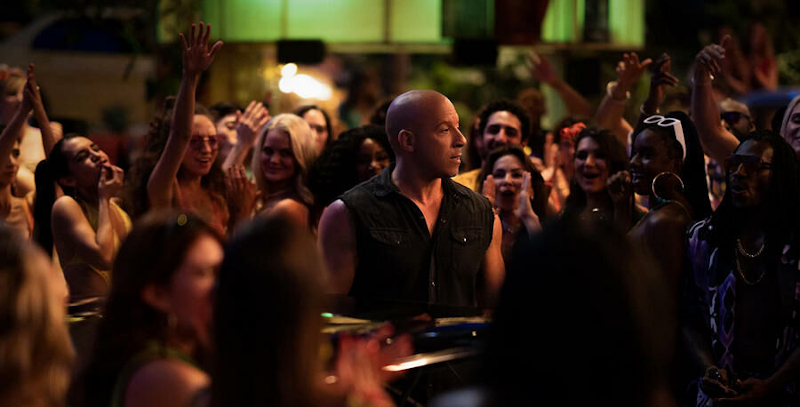 The sketchy plot provides the excuse for lots of amazing if ludicrous and unbelievable stunts, among them a race in Rio with bombs attached to the underside of a couple of the cars, an escape from bad guys on board a passenger aircraft and a drive down the side of an exploding dam.
The stunts and the simplistic concept of Dante taking revenge and Dom stopping him seems to be all director Leterriier is really interested in, but on this occasion you don't really feel for the characters as you do in some of the earlier franchise entries and as a result, you don't emotionally invest in the stunts as strongly as you might otherwise have done. While there's no denying the visible mayhem on the screen in vast quantity, some of this material gets boring quite quickly. As these films' budgets have increased, more of the stunt work has been augmented by CGI, which scarcely helps.
A couple of much simpler fight scenes between two people in which no cars are involved, one between Charlize Theron and Michelle Rodriguez, one between Sung Kang and Jason Statham, are terrific, and some nice father / uncle in-car bonding takes place between John Cena and child star Leo Abelo Perry. Generally, the emphasis is on the action, which is pretty much relentless, and while you could reasonably argue that action is character, more character depth would have helped this tenth instalment no end in terms of audience engagement.
Fast X is out in cinemas in the UK on Friday, May 12th.
Trailer: