Director – Shaka King – 2021 – US – Cert. 12 – 126m
****1/2
The FBI recruit a small-time thief to infiltrate the Chicago chapter of the Black Panthers and report on rising political leader and activist Fred Hampton – two-time Oscar winner is on digital from Monday, April 26th
This cleverly and skilfully plays out both as a terrific thriller about a smart, small time crook recruited by the FBI as an undercover agent and as a chance to take a fresh look at a piece of US social history that has been presented in an unfavourable light by its largely state-sympathetic chroniclers. That piece of history is the Black Panther Party (BPP), long presented as violent insurgents intention upsetting the US status quo. However in the #BlackLivesMatter era when the police in the US have all too often shown themselves in sync with ideas of white entitlement, maybe it's time to look at the BPP again.
I'm not sure you can totally exonerate the BPP – they did, after all, take up arms against the police although you might argue much of that's in self-defence – but at the same time there seems to have been a lot in the organisation that's good: social programmes and trying to help blacks and the social underclass stand on their own two feet in a system rigged against them.
The camera rolls: Bill O'Neal talks about the crazy stuff he got involved in back in the sixties. FBI director J. Edgar Hoover (Martin Sheen) makes a speech about the BPP being the biggest threat faced by US society. Then it's into full colour letterboxed image as smart looking, black, FBI agent O'Neal (LaKeith Stanfield) raids a Black bar, shakes down its clientele and confiscates the keys to a "stolen" car with which her gets away after a brief skirmish involving a blade passing through the hood and carving up part of his face. Alas, the FBI catch him, with white interviewing agent Roy Mitchell (Jesse Plemons) less bothered about the car theft (18 months) than by O'Neal's impersonating one of their own (five years). But if he'll co-operate as an informant within the Black Panthers, he'll earn his freedom.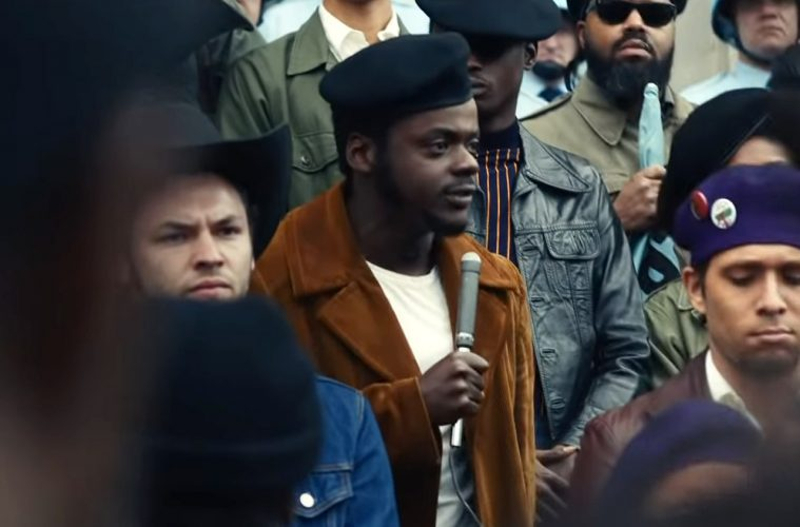 Thus the stage is set to introduce us to the Black Panthers and their young, inspirational, local leader Fred Hampton (Daniel Kaluuya) who espouses Maoist ideas ("political power comes from the barrel of a gun"), respect for women and helping society's poor. We watch him enter into a relationship with Deborah Johnson (Dominique Fishback), a woman his intellectual equal unafraid to speak her mind to him, and become a father-to-be.

(This paragraph: spoiler alert.) She's eight months pregnant with his child when armed cops enter the building one night and kill most of those present with a considerable amount of firepower, with only one gun discharged once on Hampton's side, and that one may simply have gone off as a reflex when its owner was shot. They have been set up by O'Neal on the Bureau's instructions. The latter incident is history but nevertheless comes as a shock when played out on the screen here.
A lot of research has gone into recreating Chicago in the late sixties on the screen and this aspect is a joy to watch. The striking cinematography never descends into the overly pretty. The narrative sometimes seems to skip scenes – perhaps there were issues bringing the film down to around two hours either before or after shooting – but there's enough left to make sure that it all works in terms of the storytelling.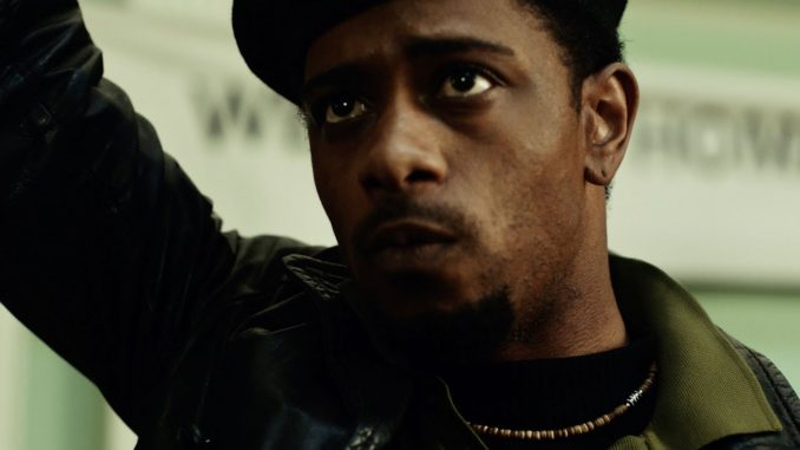 While Kaluuya and Fishback impress and Plemons provides strong support in his intermittent scenes as the FBI man, the film really belongs to Stanfield as the complex, conflicted O'Neal who takes the audience along with him on his journey of survival caught between the white, establishment-supporting Bureau on the one hand and the idealism of the Panthers and the inspirational Hampton who personifies their cause on the other. Director King and his team have achieved something both provocative and extraordinary in bringing this film to the screen: it's one you should seek out. Be prepared to do a little background reading and engage in some serious discussion after viewing, though.
Two-time Oscar winner Judas And The Black Messiah is out on digital from Monday, April 26th.
Trailer:
Oscars (2020 / 2021)
Actor in a Supporting Role:
Daniel Kaluuya.
Music (Original Song):
Fight For You by H.E.R. and Dernst Emile II; Lyric by H.E.R. and Tiara Thomas.
UK release dates:
2021
Digital: Monday, April 26th.
PVoD: Thursday, March 11th.